There has been considerable debate lately on what effect the supply and price of oil is having on the economy. It is, to my mind, a lot more serious than the vast majority of economists believe. In fact one can just look at what is happening today to see the effect of a constrained oil supply and high oil prices. Just look at the unemployment rate: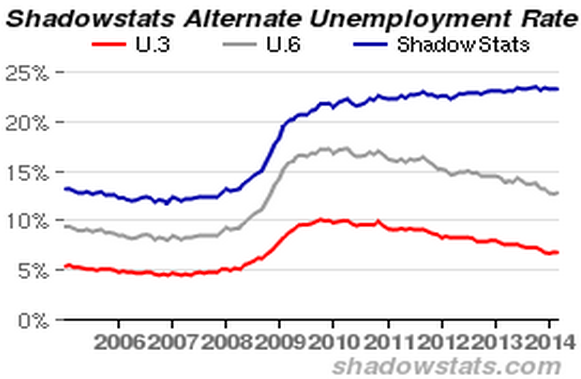 Real unemployment is double what it was in 2007. And it is creeping higher.
If you have not watched Oil Supply and Demand Forecasting with Steven Kopits then you have missed the best and most informative video that has come along since this whole debate started over a decade ago. I have just finished watching it for the third time. This time I made notes.
Kopits makes it very clear that oil is a binding constraint on economic growth. Of course that is obvious to most of us but you would be surprised at how many economists deny this. But for starters a few charts from Kopits video: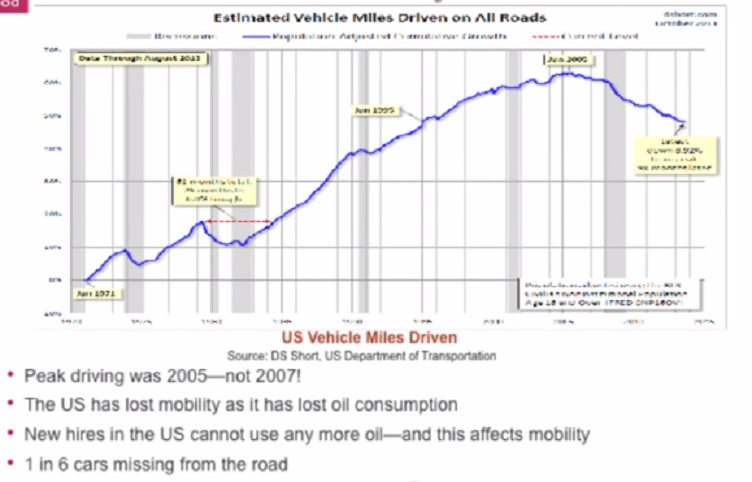 This is a direct result of the high price of oil.
And the difference between the motorization of the West and the Motorization of the East.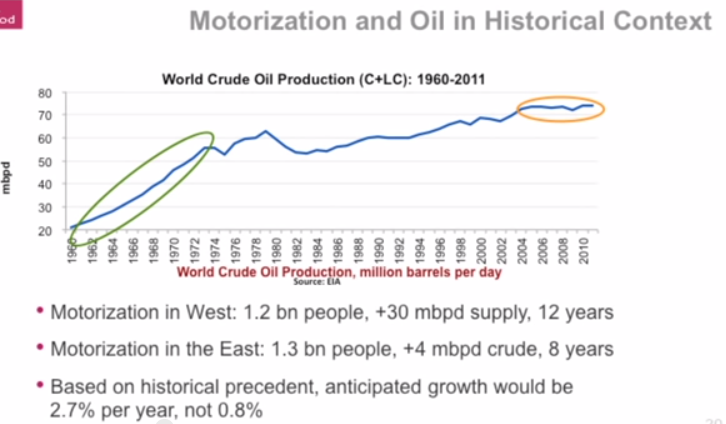 The obvious reason for the difference was supply constraint. The oil was just not there therefore the supply could not grow.
Air transportation was affected by supply constraint even more than road transportation.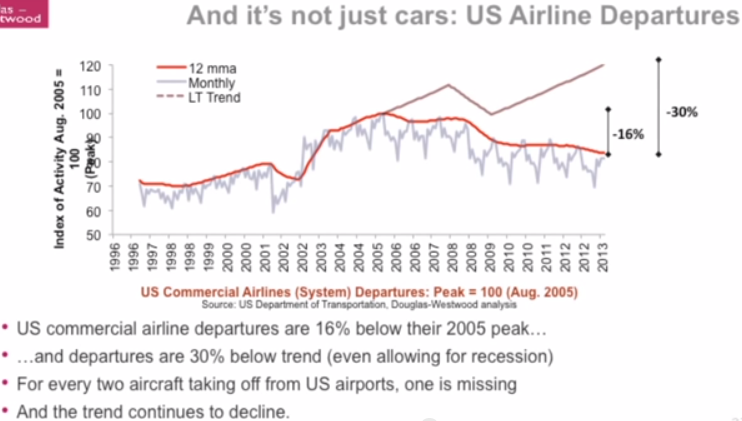 But we are hanging on as best we can to our mobility while cutting more drastically in other areas.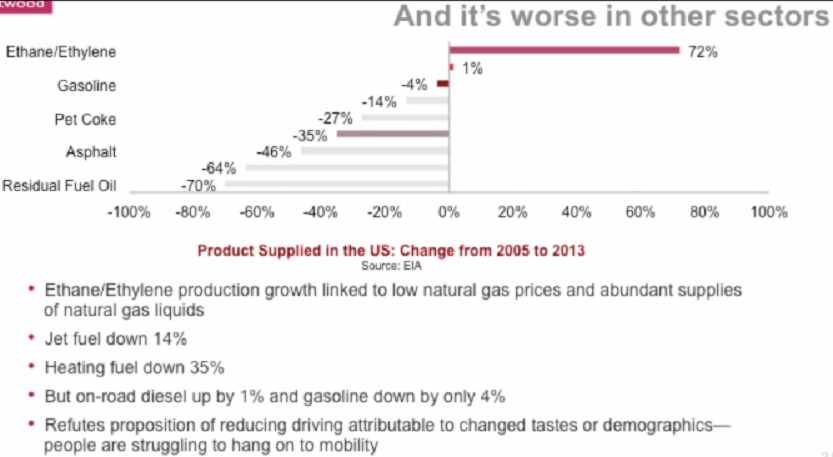 People are switching to natural gas where they can but hanging on to their driving habits as best they can.
And it't going to get a lot worse. Kopits: "Oil company profits have lagged because costs are rising faster than revenues. E&P capex per barrel has been rising by nearly 11% per year. Brent prices have been largely flat. A number of projects have consequently been deferred, cancelled or return for re-evaluation."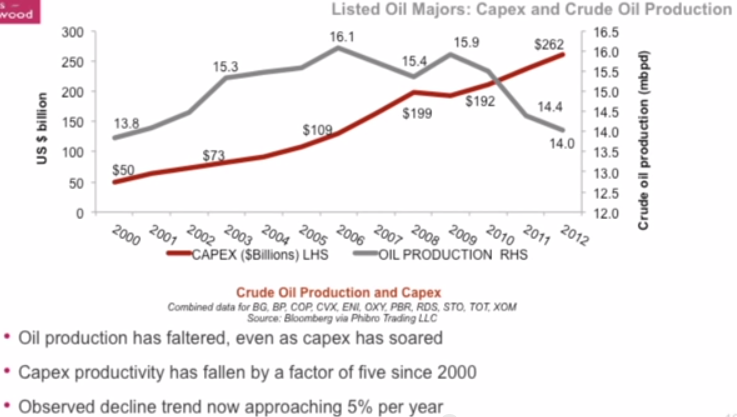 I must add here, what is happening to the majors is also happening to the national oil companies as far as new oil is concerned. Their old giant fields will continue to pump oil at a few bucks a barrel but new exploration and drilling cost are rising just as fast for them as it is for the majors. For instance Aramco boosts drilling in seismically tough Red Sea.
Aramco is seeking reserves in anticipation of global economic growth and increasing demand for oil. The Red Sea is two kilometres deep in places with a 7,000-foot thick salt sequence which can distort seismic images, according to the magazine.
Just looking for the oil will cost them billions, and many more billions to produce it if they find any, which is a very big if. 
Kopits: "In a demand constrained model: Price = Marginal Cost.
In a supply constrained model this is not the case. The price increases to a point where the marginal consumer would rather do with less than pay more. They will not recognize your marginal cost. If your cost continues to rise your consumer will not recognize it."
Understand he is talking about the marginal consumer here. Every consumer has a price limit. If you are in the top 10% income bracket then your marginal price is very high. But for the masses there is a limit.
Kopits: "Oil majors are very slow to understand what is happening because they don't use supply constrained forecasting. So that's made them inherently optimistic. They say 'Oh prices will rise'. But they are not rising. They don't know why they are not rising. But now they are in a position saying 'Oh we must sell something because our investors want dividends'. 
Conclusions:
Demand-constrained models dominate thinking about oil and demand, supply, prices and their effect on the economy.
The data have not supported these models in recent years; the data do fit a supply-constrained model.
A supply-constrained approach will not be applicable if China falters, US short term latent demand is sated, and oil supply growth is robust.
For a supply-constrained model to be valid, oil must be holding back GDP growth  as an implicit element of model construct.
If the supply-constrained approach is right, then GDP growth depends intrinsically on increasing oil production.
Without such increases, OECD GDP growth will continue to lag indefinitely, with a long-term GDP growth rate in the 1-2% range entirely plausable, and indeed, likely.
In turn, if this is true, then current national budget deficit levels and debt levels will prove unsustainable, and a second round of material and lasting adjustment will be necessary.
Okay then, just how high can prices go in 2013 dollars before the marginal consumers start to cut back on their consumption. This of course would not only halt the price rise but also be felt in other sectors of the economy. Well I would say we are at that point right now. In fact we are always pushing on that point. Every time prices rise a little some consumers cut back, and their cutting back affects other sectors of the economy.
But of course if the supply were to start dropping by say one or two percent per year, or higher, then prices would of course go higher. But the economy would suffer the consequences. And those consequences could be a killer.