North Dakota publishes crude oil production numbers for each county. The problem is these numbers do not include confidential wells. Their totals for all North Dakota do include these wells however. I have figured out a way to estimate, pretty closely I believe, each county's share of those unreported wells. That is take each county's percentage of total production, then assume they would have the same percentage of confidential wells. It is not exact but close enough.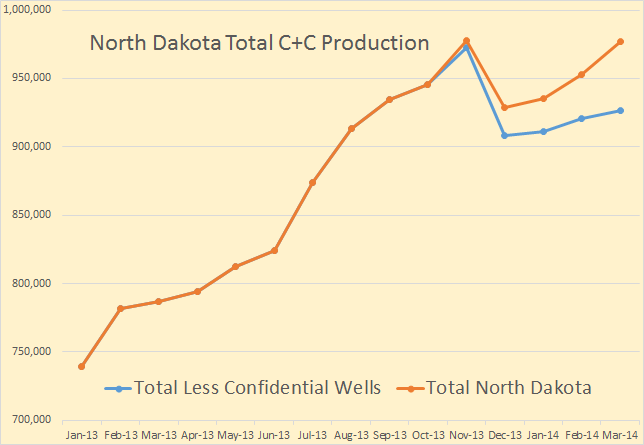 The data is published only as a PDF file and cannot be copied and pasted. Therefore I must input the data for each of 18 counties, each month, manually. That is very time consuming and I only had the patience to do 15 months. But that is plenty for what I am trying to show.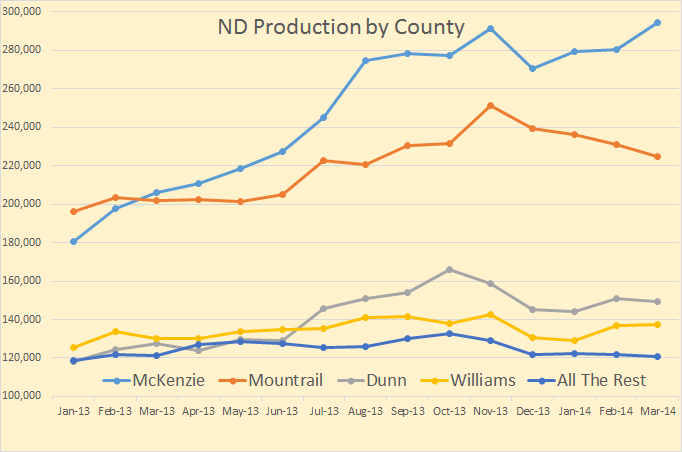 All the rest of North Dakota combined produces less than the lowest of the big four.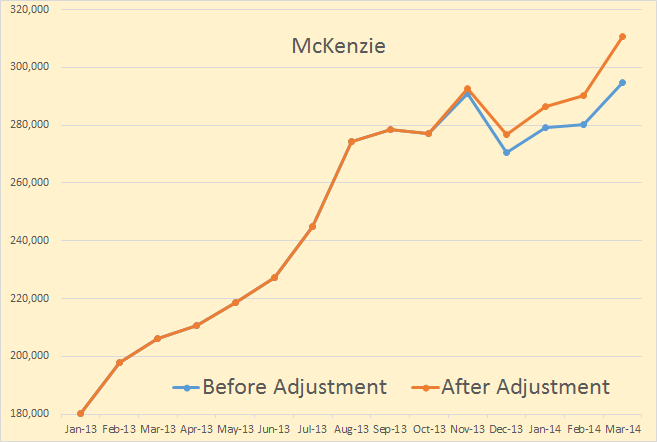 McKenzie County is where most of the action is. It shows no sign of peaking yet. After adjustment for confidential wells, McKenzie County's adjusted production was up 20.5 thousand barrels per day in March. All the rest of North Dakota combined was up 3.5 thousand barrels per day in March.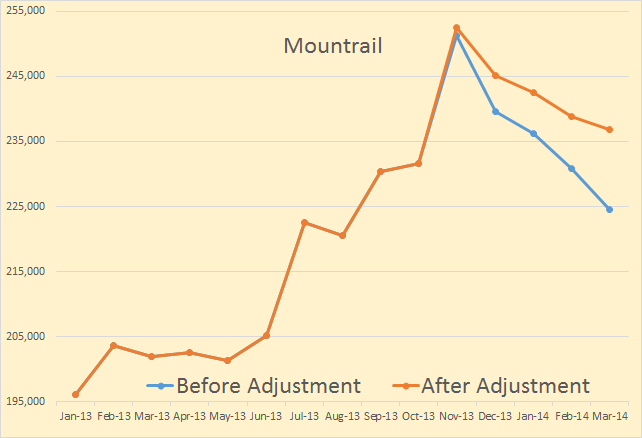 Mountrail, the second largest producer in North Dakota seems to clearly have peaked. Mountrail County's adjusted production was down just over 2 thousand barrels per day in March.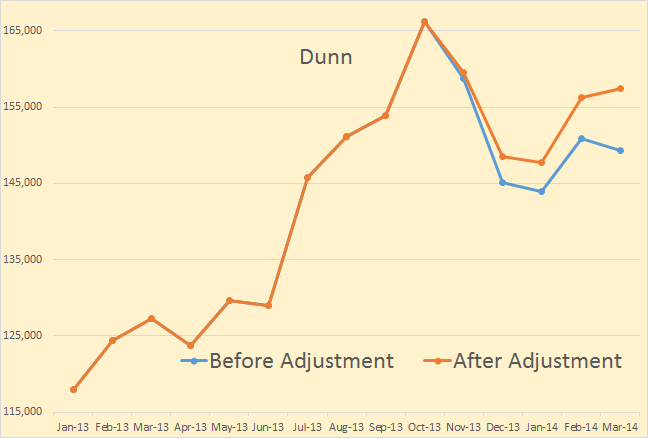 Dunn looked like it was about to take off in February, up over 8 thousand bpd but slowed dramatically in March with adjusted production up only about 1.25 thousand bpd.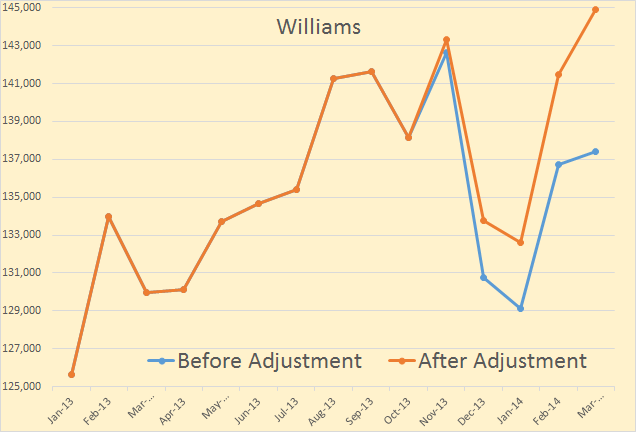 Williams County, North Dakota's fourth largest producer, was up about 3.4 thousand barrels per day in March, less than half its gain in February.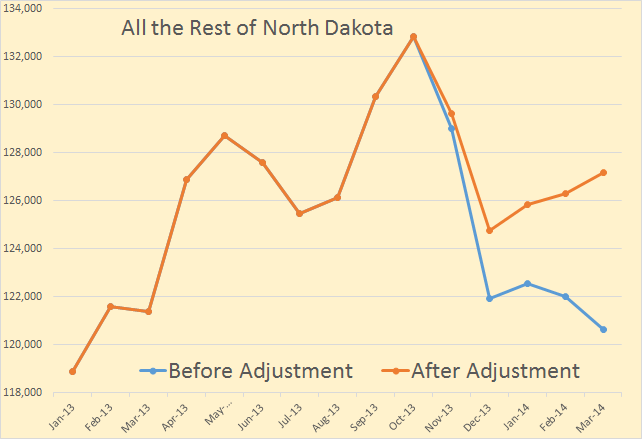 I think the rest of North Dakota has peaked. Though they were up about 900 barrels per day in March they are still down about 5.6 thousand bpd from their peak in October 2013. And notice their peak was in October, not November when the other four counties peaked just before the bad weather outages in December.
The bottom line is that all North Dakota, except for three counties, has peaked. And only one of them, McKenzie, is still increasing relatively strong. I expect North Dakota to keep increasing the rest of the year but to peak late 2014 or early 2015.
The below chart of is in thousand barrels per day.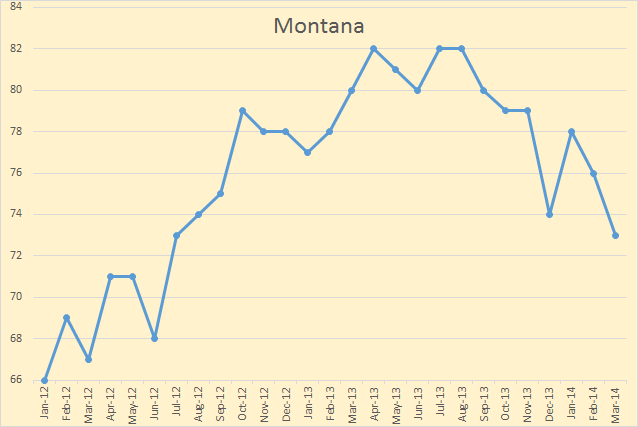 Part of the Bakken is in Montana. Montana peaked back in September of 2006 at 102 thousand barrels per day but the Bakken boom brought a new surge of drilling rigs into the state. That brought on a new surge of production which peaked in July and August of last year at 82 thousand bpd. They are now down 9 thousand bpd at 73 thousand bpd.
Though McKenzie County ND is still going great, it is the only sweet spot left in the Bakken. All increase in McKenzie County and any slight increase in Dunn and Williams Counties must overcome the decline in Mountrail County and the rest of North Dakota and Montana.
The Outlook for the Bakken is not really as great as a lot of the Bakken cheering section would lead you to believe.
And just one bit of news to report:
Russian daily oil production down for fifth month in a row
MOSCOW, June 2 (Reuters) – Russian oil output edged down to 10.53 million barrels per day (bpd) in May from 10.54 million bpd in April, declining for the fifth month in a row in terms of daily production, Energy Ministry data showed on Monday.
In tonnes, Russian oil output reached 44.535 million last month, versus 43.119 million in April.
That is an decrease of only 10,000 barrels per day. May was a 31 day month so the monthly figures show a larger figure for May.
I send out an email notifying some folks of every new post. If you would like to be put on that list or removed from it, please notify me at DarwinianOne at Gmail.com.