This is a guest post by Jean Laherrere
BOEM and BSEE have published in 2014 the GOM oil & gas reserves at end 2010 few months ago and at end 2011 lately.
The big change is that they now report proved and probable reserves = 2P (in contrary to SEC rules for operators reporting at the US Stock Exchange, forbidding to report probable reserves), when before they reported only proved reserves = 1P
They argue:
In order to more closely align BOEM GOM reserves definitions with the Petroleum Resources Management System definitions (SPE/AAPG/WPC/SPEE 2007), this report clarifies that Proved Reserves in this and previous reports are Proved plus Probable (2P) estimates.
The difference between original reserves estimates from previous year found little difference for discoveries before 1995
The difference between 2P 2011 and 2P 2010 is a very large decrease for Thunder Horse (-488 Mb or 573 Mboe) and the largest increase is Great White +73 Mb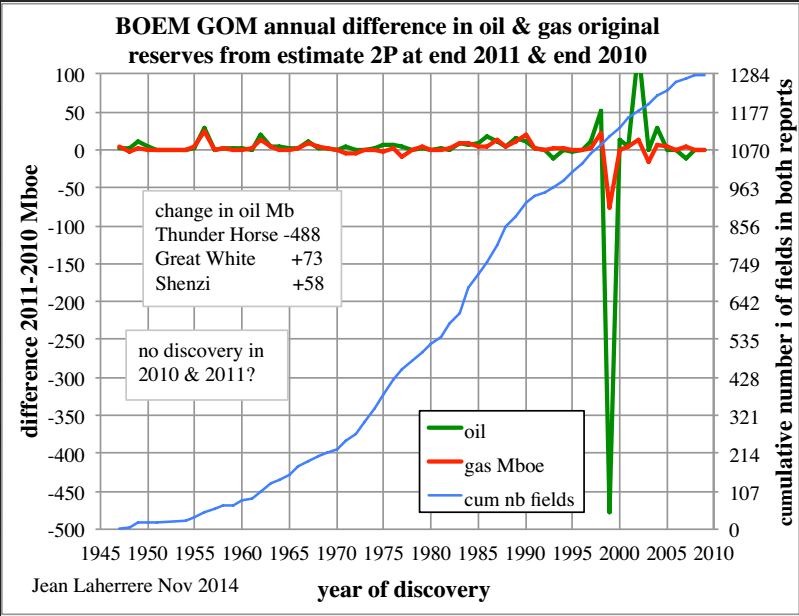 The difference between 2P 2010 and 1P 2009 displays a large increase in Tahiti +169 Gb and large decrease with Atlantis -92 Mb (already in decrease in 2009)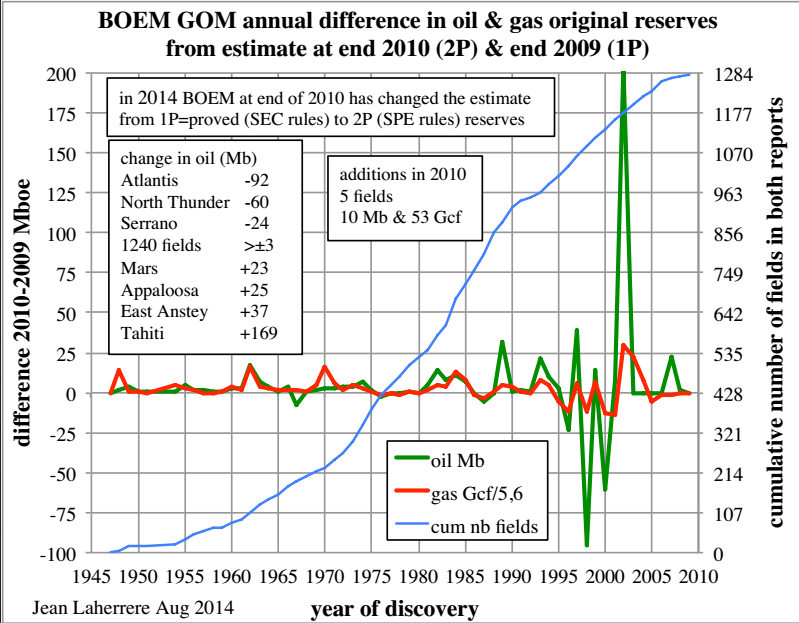 The difference between 1P 2009 and 1P 2008 is as important as the difference between 2P and 1P: large increase with WD 030 +61 Mb and large decrease for Atalntis -161 Mb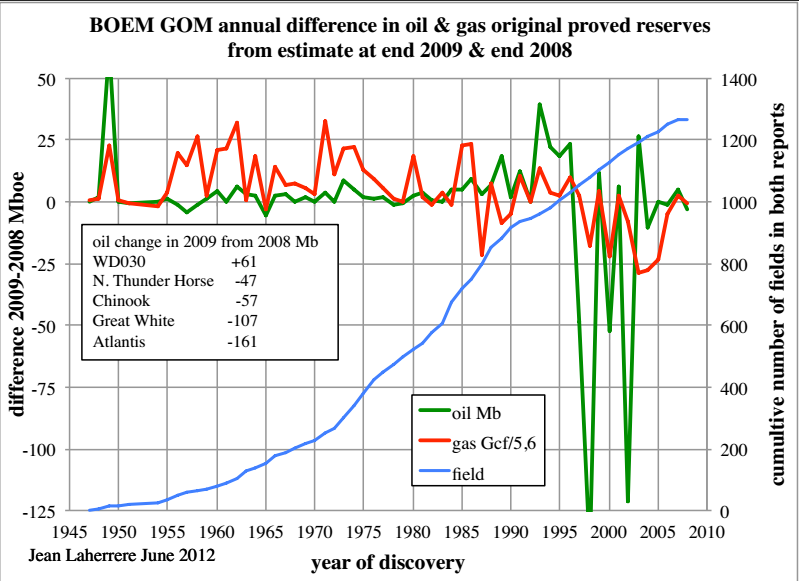 The change in reserves with time  and definitions does not change the estimate on GOM ultimates: 24 Gb and 210 Tcf

The modelling for oil is complex because the subsalt and needs 4 cycles, meaning that a fifth one is difficult to guess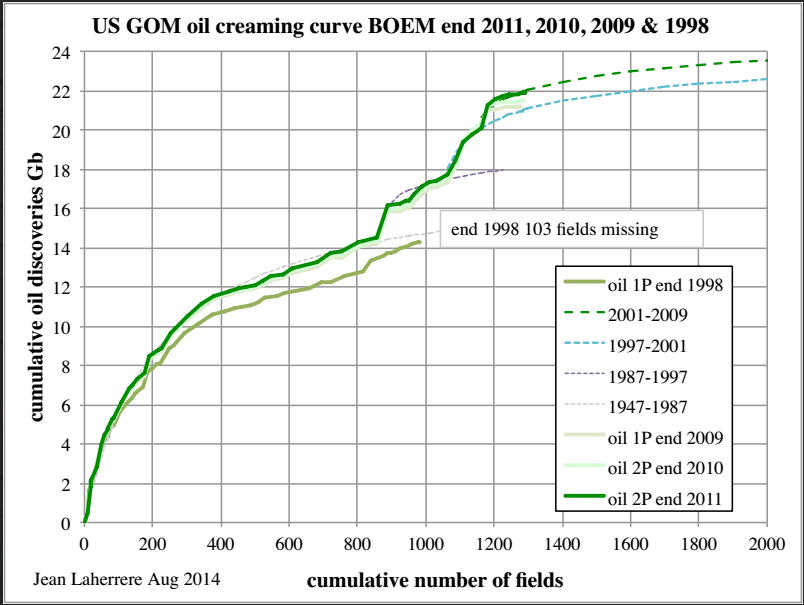 The modelling for natural gas is easier with only 3 cycles and one cycle model could be as good.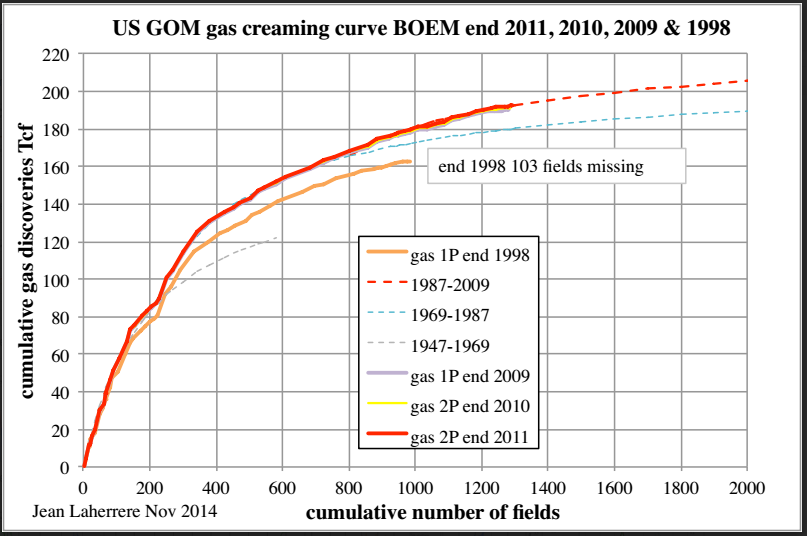 The increase from 1998 values comes mainly because these government agencies, selling leases to the oil companies, are unable to properly register the number of fields: about 10% missing!
The number of fields at end of 1998 was 984 in the 1998 study (14,3 Gb & 163 Tcf) when it is now in the 2011 study 1087 fields (18,5 Gb & 184 Tcf): 103 fields missing representing about 4 Gb & 20 Tcf: poor reporting!
But the last 2014 report at end of 2011 does not report any discoveries in 2010 and 2011, when it is known that Macondo (200 Mb) found in 2010 (with 6 other discoveries, in particular Appotattox (220 Mb) did produced some undesirable oil during the blow out. These reports are unfortunetly incomplete. Governments are unable to gather in time reports from operators and several years are needed to get them corrected.
The plot of oil production of the changing fields (p most in deepwater) shows large varitions, meaning that the estimate of reserves in frontier area (subsalt) is difficult
-Tahiti rank 7 deepwater 4320′ subsalt found in 2002:  414 Mb in 2009, 583 Mb in 2011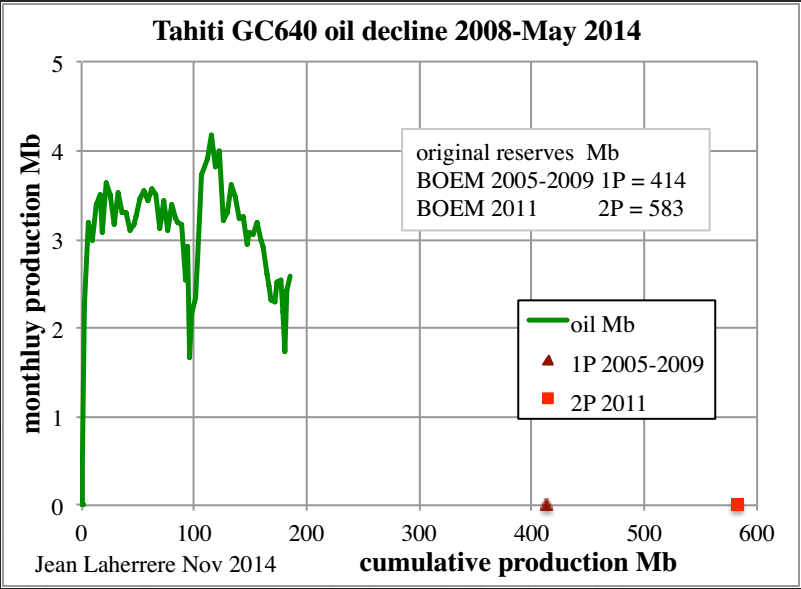 -Atlantis rank 14 deepwater 6285′ subsalt found in 1998: 689 Mb in 2001, 398 Mb in 2009, 352 Mb in 2011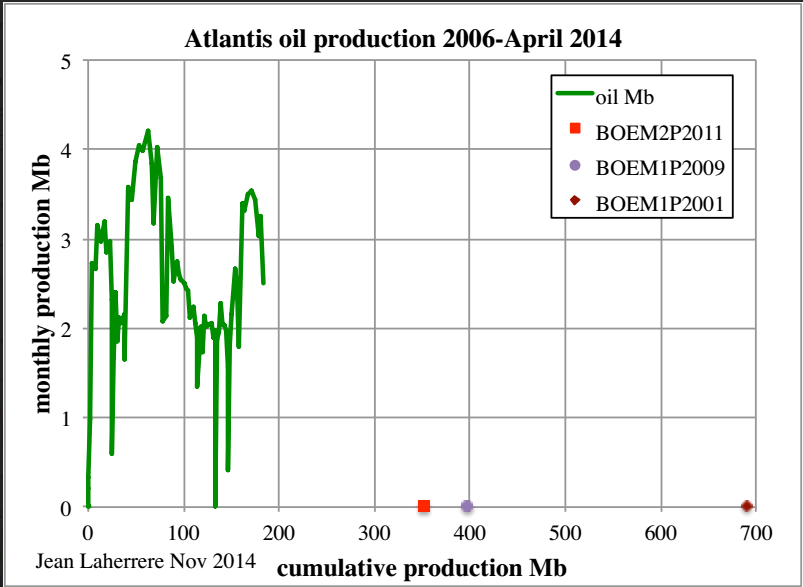 -Thunder Horse (formerly Crazy Horse) MC 778 rank 2 in 2010, rank 41 in 2011 deepwater 6078′ found in 1999 by BP which produced the field with the largest semisubmersible platform as also North Thunder Horse MC 776 deepwater 5668′ found in 2000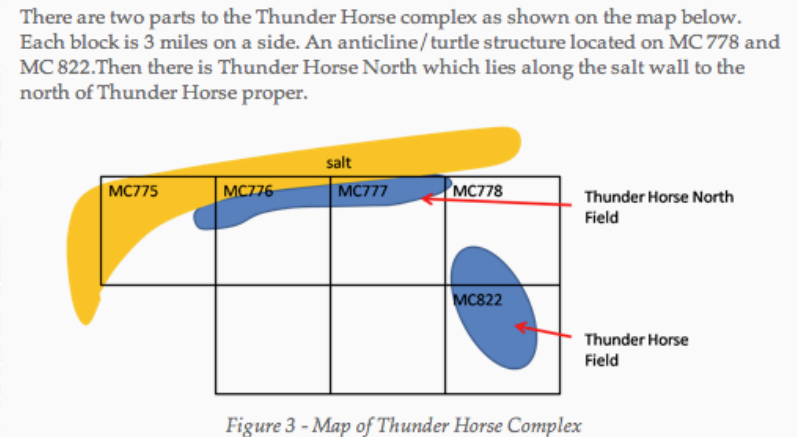 BOEM & BSEE reports complete monthly production per lease
BOEM Deepwater Natural Gas and Oil Qualified Fields
but the oil reserves are reported by field.
field                                  lease            area   block   water ' operator          code          discovery
N.Thunder Horse       G09866          MC     776      5,668   BP                   MC776           2000
N.Thunder Horse       G09867          MC     777      5,668   BP                   MC776           2000
N.Thunder Horse       G09868          MC     778      5,668   BP                  MC776           2000
N.Thunder Horse       G19997           MC     775      5,668   BP                   MC776           2000
N.Thunder Horse       G21778           MC     734      5,668   Murphy          MC776           2000
N.Thunder Horse       G27312           MC     819      5,668   Murphy          MC776           2000
Thunder Horse         G09868          MC     778      6,077   BP                    MC778           1999
Thunder Horse         G14657          MC      821      6,077   BP                    MC778           1999
Thunder Horse         G14658          MC     822      6,077   BP                    MC778           1999
Unfortunatley lease G09868 belongs both to MC 766 and MC 778.
So to get the data by field it is neccessary to go from each annual report giving the monthly production per field and per lease.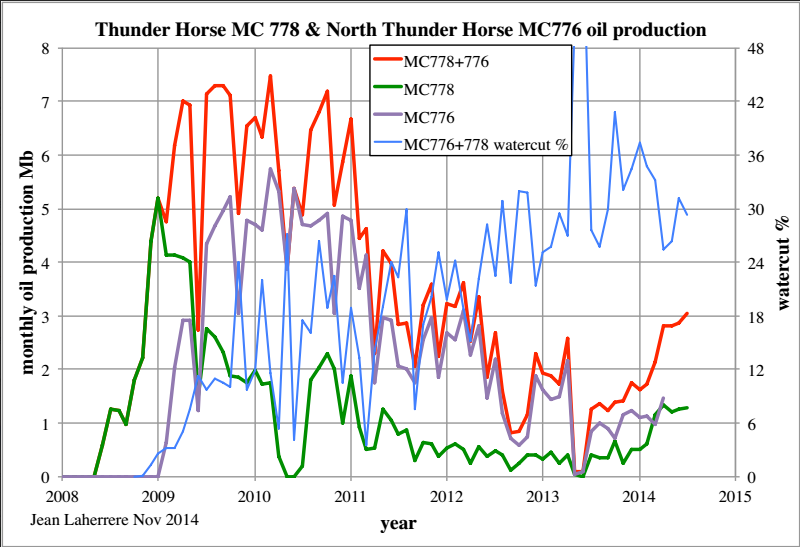 MC 778 (in green) peaked in 2009 and declined sharply and was stopped during Macondi blow out, resume decline, but increases since February 2014.
MC 776 (in purple) peaked in 2010 higher and declined since rather chaotically.
Both fields (in red) dispolays a bumpy plateau in 2009 and 2010, a sharp decline and a new increase in 2014.
The watercut of the combined fields has u increased slowly and in 2014 is about 30% which is much less than most of GOM fields when in decline. Watercut is not the problem of deepwater fields.
From 2011 reserve report, the next graph shows the oil original estimate since 1999 for both fields, the rank and the cumulative production (up to 2013 from above graphs)
Thunder Horse (MC778) was in 2001 reported as the second largest field in the GOM, was still second in 2010 but in 2011 its rank fell down to 41
Thunder Horse North (MC776) was raked at 6 in 2006 and at 17 in 2011.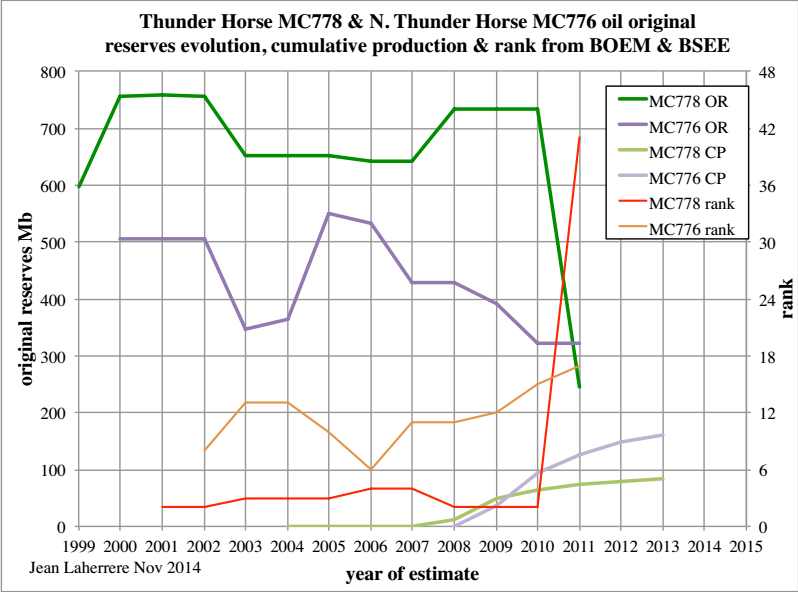 The oil and gas reserves of both fields were 1506 Mboe in 2000, 1227 in 2010 and 651 Mboe in 2011: divided by half.
And I guess that the fall can continuei
-West Delta 030 shallow water (49′) found in 1953
The fields has many reservoirs against a salt wall over a depth of 16 000 ft: see Energy XXI slide.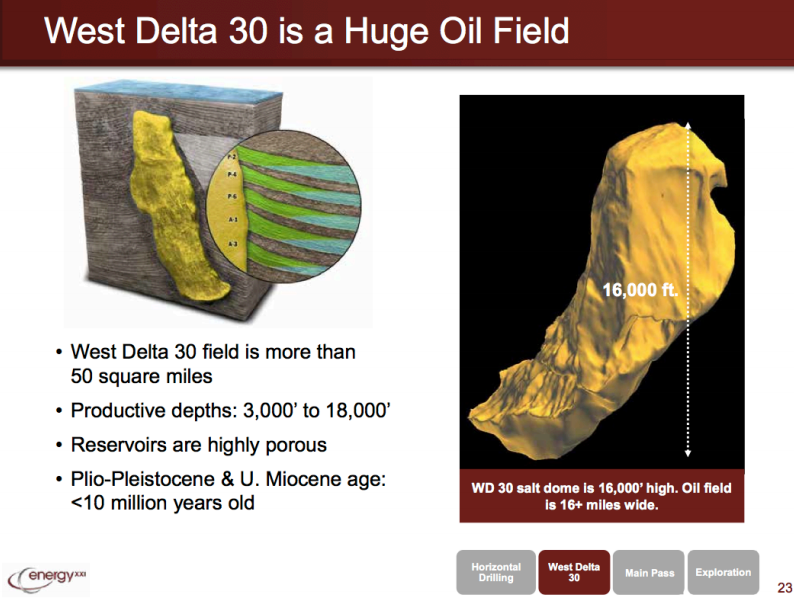 WD 030 peaked in 1973 and declined with bumps, in 2002-2006 the operator Exxon drilled 6 wells, small increase, mainly gas and in 2010 sold the field and 8 other fields to Energy XXI for 1 G$.
Energy XXI has drilled a new well and 9 wells were recompleted. The result is a small increase. Watercut stays around 85%.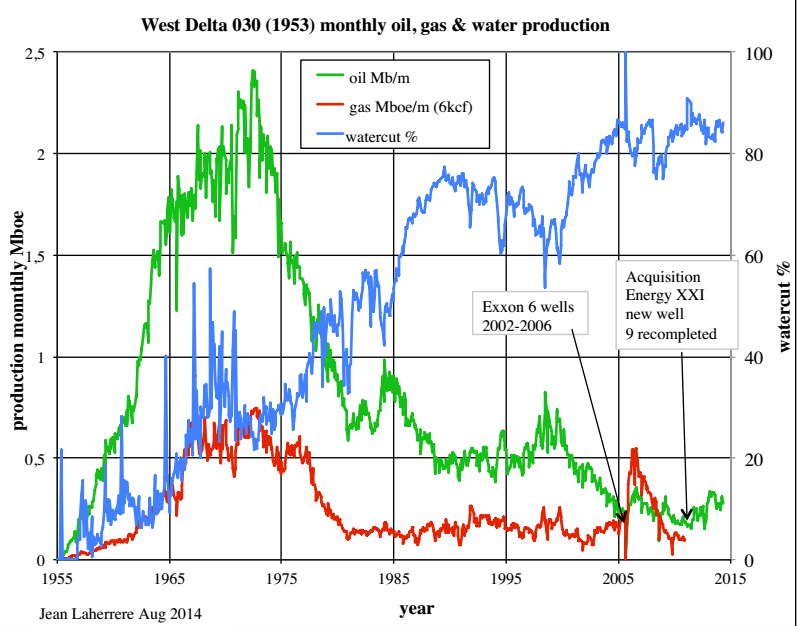 The monthly oil production plot against cumulative discovery shwos that the original reserves went from 580 Mb 1P in 2008 to 641 Mb 1P in 2009 and 648 Mb 2P in 2011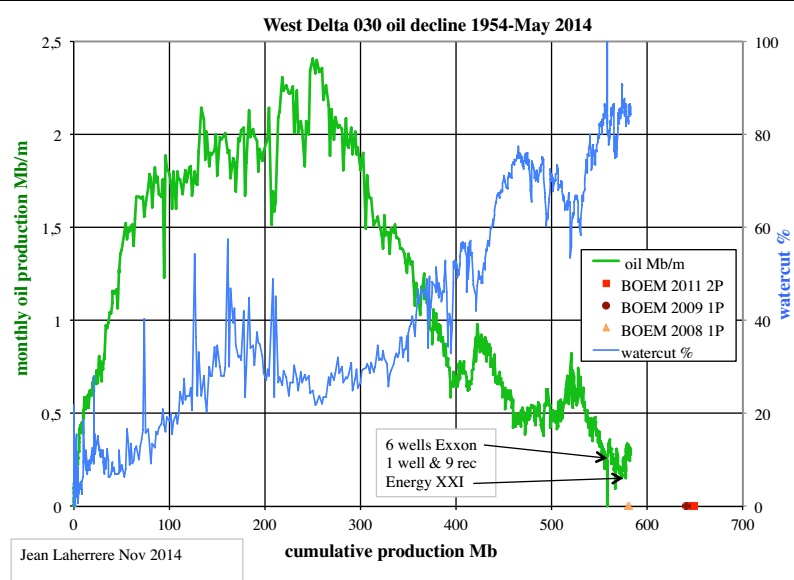 The plot of the 1P reserves and cumulative production displays the usual increase of proved reserves with production and also with oil price. The last increase will take a long time to be produced.
This small increase, which can be described as EOR done by a small operator which has smaller operating costs than a major and can affords more drilling.
It remind the small increase in the North Sea UK Forties field sold by BP to Apache in 2004.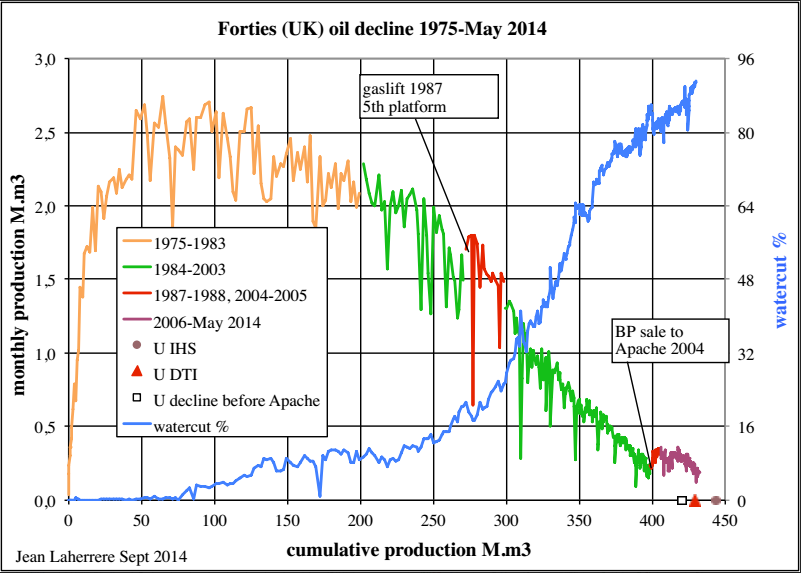 In conclusion it appears that the deepwater fields were overestimated, BOEM/BSEE are correcting theirs estimates.
In the world there was no giant discovery in 2013, the first time since 1903 and in the GOM the largest deepwater discovery was divided by half losing the volume of a giant field!
My last forecast on the US oil production is far from the last preliminary AEO 2015 and also from the official AEO 2014 which extrapolated needs an US ultimate over 400 Gb, when my guess is between 250 (adding the different estimates) and 300 Gb (global guess to take care of unknowns)