Eagle Ford output is difficult to estimate as there are 20-25 separate fields that need to be followed to get a full picture. To save time, I have used Enno Peters' data for horizontal wells from Districts 1 to 5 in Texas from his website shaleprofile.com, he has data through June.  Enno's data is combined with the RRC data for statewide C+C output to find the percentage of Texas C+C from the Eagle Ford. This percentage is multiplied by Dean's estimate for Texas C+C output to get the following estimate, which is compared with Enno Peters' data.  EF-EP is Enno Peter's collection of data from the RRC, EF-DC is my estimate using the method described.  Based on a May 2016 Eagle Ford estimate, I subtract 70 kb/d from the EF-DC estimate to account for non-Eagle Ford horizontal well output in Districts 1 to 5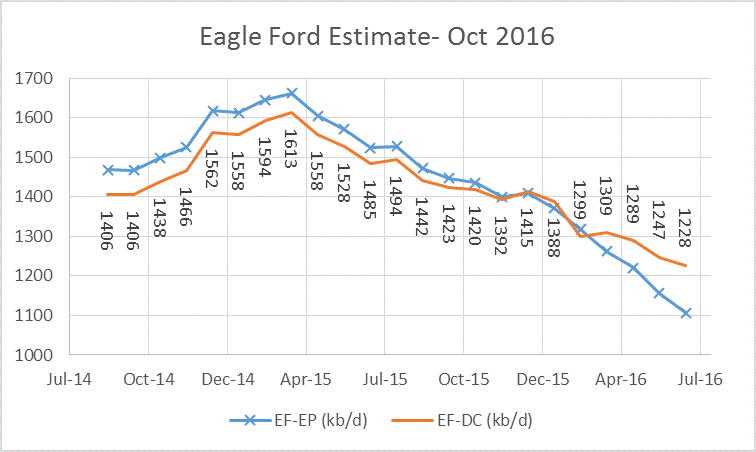 The data labels in the chart above are for the EF-DC estimate.
I used these updated output estimates for the Eagle Ford and David Hughes estimate (from Drilling Deeper ) of 7.8 Gb of liquids output from 36,000 total wells drilled to develop a future output scenario for the Eagle Ford.  Hughes' estimate includes both oil and gas wells and through September 2016 about two thirds of wells completed have been oil wells, so I will assume 24,000 total oil wells drilled. As of Sept 1, 2016, 11,600 oil wells had been completed in the Eagle Ford according to the RRC. Hughes estimates about 290 kb for the EUR of the average Eagle Ford well, my estimate (including condensate from the average gas well) is 270 Kb of C+C for the average Eagle Ford well with 216 kb of crude only (excluding condensate from gas wells). I assume new oil wells added will be 131/month from July 2016 to Dec 2016 and then the number will increase by one well each month from Jan 2017 to June 2019 when 160 new wells per month are added. The new wells added remain at 160 per month until Sept 2021 and then begin to decrease. There is a secondary peak in 2021 at about 1300 kb/d with total output from Jan 2010 to Dec 2040 of 6.4 Gb, output declines sharply from 2022 to 2026, falling to 200 kb/d by Jan 2030.