North Dakota publishes, every month, a Monthly Statistical Update from which we can gather a wealth of data if we dig deep enough. They publish the number of spuds, that in new wells started, each month, along with the average number of rigs that month. From this we can glean the average number of days each rigs spends on each well.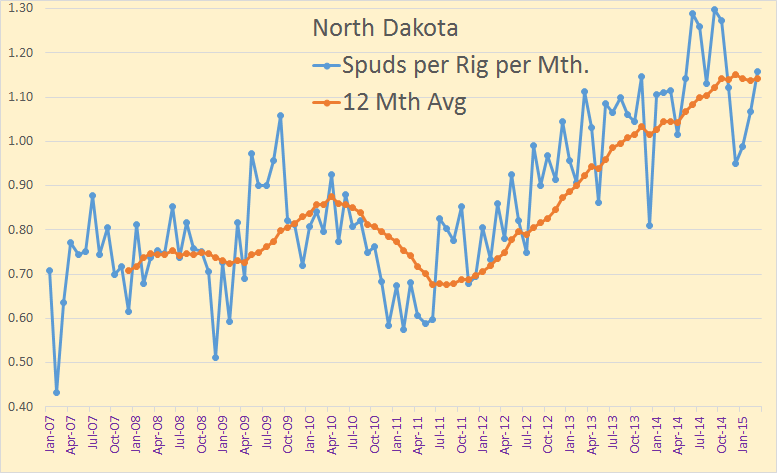 The last data point is March, 2015. Through 2011 a rig could drill about .75 wells per month, or about 40 days spud to spud. Today that figure is about 1.14 wells per month or about 26.3 days spud to spud.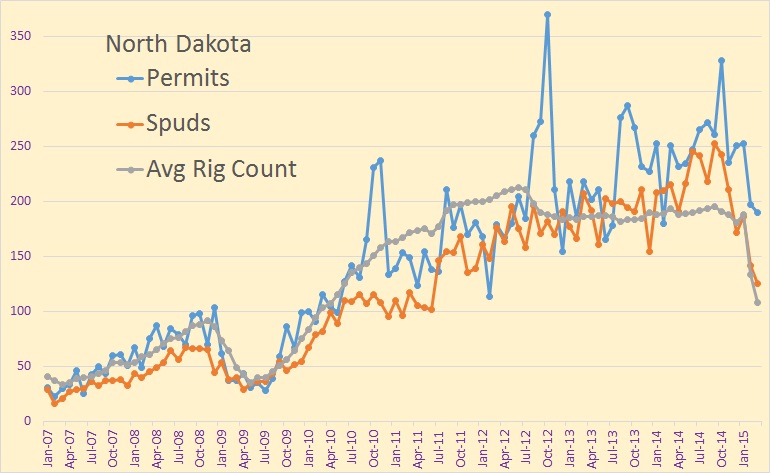 Again, the data is through March. We can see the falloff of spuds, rigs and permits in February and March. April and May should show a further decline in all three.
Just how many new wells per month does it take to hold production flat in the Bakken and Eagle Ford? We don't have much data from Eagle Ford but we do have a lot of data from North Dakota.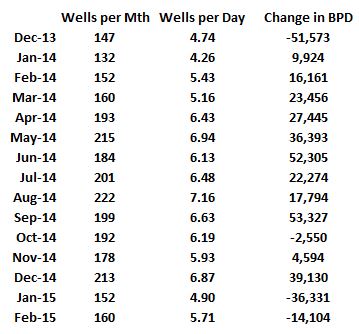 Different days in each month can give a wrong impression, especially in February. So I have changed the data to wells per day to clarify things. I think we can clearly see that it takes a lot more wells per day, or month, to keep production flat than many believe.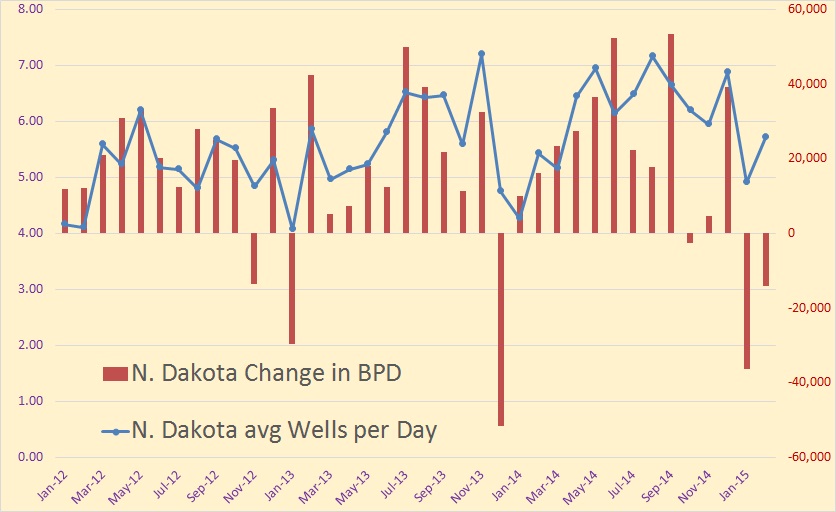 In October and November 2014 they averaged about 6 wells per day or 180 wells per month and held production basically flat. In December the average was almost 6.9 wells per day and production jumped by 39,000 bpd. Then in January wells per day dropped to 4.9, or by almost 2 wells per day, and production fell by over 36,000 bpd. In the average month, 30.417 days, that comes to 149 wells per month! In February things improved to 5.71 wells per day. That comes to almost 174 wells per 30.417 day month. Yet production still fell by over 14,000 barrels per day.
Tough one cannot directly convert the number of new wells to an increase of decrease in barrels per day, I think it obvious, from the chart above, that there is a general correlation between new wells and change in the production numbers.
Of course all wells are not the same. And production per new well sometimes varies greatly from month to month as in December 2013 an January 2014. But if production per well stays close to what the average has been in the last 5 months, then it will take 160 to 180 new wells per month to stay even.
However, there is some evidence that only the very best wells are now being fracked from the pool of over 800 drilled but unfracked wells in North Dakota. So under those circumstances I would expect the number of new wells to keep production flat to be somewhat lower, perhaps in the neighborhood of 140 or so.
North Dakota publishes a lot of information but if you dig deep enough you can also get some data out of Texas.
Here are some of the March stats according to the Texas RRC
     The Railroad Commission of Texas issued a total of 923 original drilling permits in March 2015 compared to 1,894 in March 2014.
     In March 2015, operators reported 1,547 oil, 305 gas, 109 injection and nine other completions compared to 2,965 oil, 272 gas, 131 injection and 13 other completions in March 2014.
     Total well completions for 2015 year to date are 5,946 down from 10,130 recorded during the same period in 2014.
     Operators reported 551 holes plugged and zero dry holes in March 2015 compared to 743 holes plugged and zero dry holes in March 2014.So in March Texas permits are down by more than 50% and well completions down by almost half.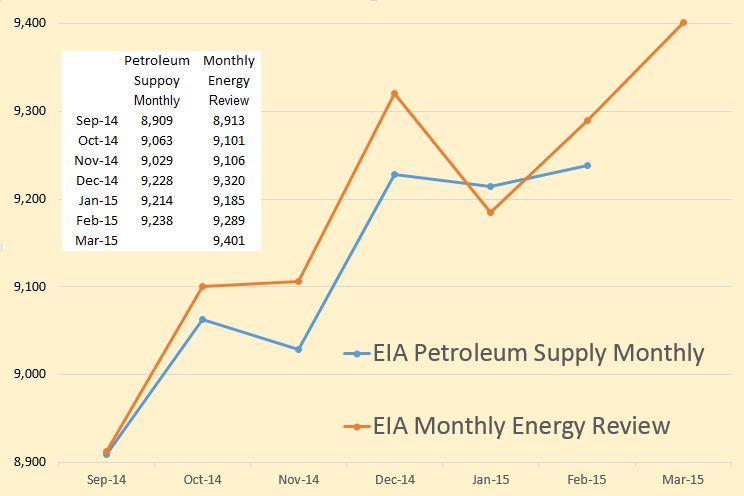 The EIA Petroleum Supply Monthly, which I consider the most accurate of all the EIA's different reports of the same data, has production basically flat since December. However the EIA's Monthly Energy Review has US crude production taking a drop in January but up over 200,000 barrels per day in the next two months.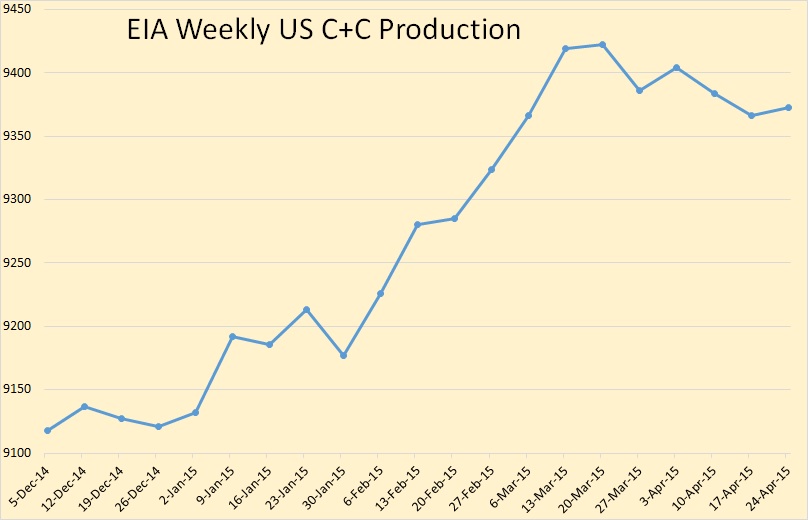 However the EIA's Weekly Petroleum Status Report has US crude production peaking in mid-March and declining by 50,000 barrels per day since.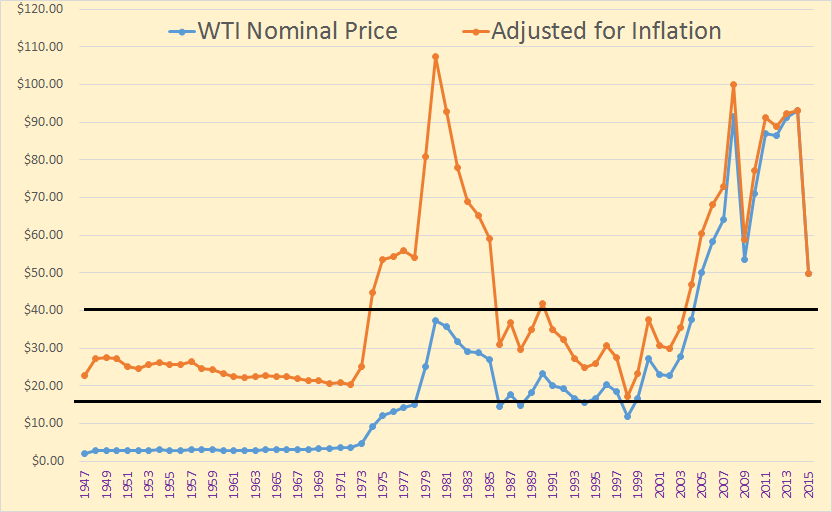 Between the two heavy lines in the chart above, that's the range where oil companies used to make piles of money when oil traded in that range. Now some companies go bust at twice that price.
For many decades, and well into this century, it was very profitable to produce oil at well below $40 a barrel in 2015 dollars. Then early in this century we reached peak conventional crude oil. To supply the world with enough oil, the price had to rise, and it did. But that raised havoc with many world economies. The price crashed along with a lot of economies in 2008. Then it recovered but crashed again in 2015.
* The 2015 price in the chart above is the average through April 24th.
Perhaps 15% or more of the world's oil production is uneconomical at today's prices. That is tight oil, tar sands oil and deep water oil. The price will have to rise again or production will fall. But if prices rise again then many fragile economies will likely collapse. We live in interesting times.
And a word from James Kenneth Galbraith courtesy of Art Berman
The world oil market is undergoing a fundamental structural change in response to expensive oil. Producers are trying to survive by limiting expenditures. While analysts have been focused on rig counts, deferred completions have emerged as the initial path to lower U.S. oil production. This unanticipated outcome suggests that others may follow. While everyone is waiting for higher oil prices and for things to return to normal, what we may be witnessing is the end of normal.
__________________________________________________
Note: I post an email notice to about 250 people whenever I put up a new post. If you would like to be on that list, or removed from it, then notify me at DarwinianOne at Gmail.com.