The latest Update on Bakken and North Dakota LTO production is out.
ND Monthly Bakken Oil Production Statistics (Bakken Only)
ND Monthly Oil Production Statistics (All North Dakota)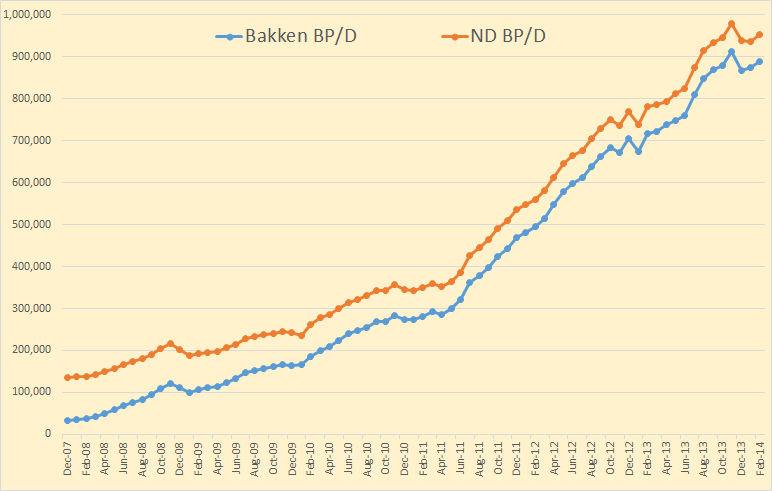 Bakken production in February was 888,398 barrels per day and all North Dakota February production was 951,350 barrels per day. Some revisions were made in the past production numbers. Only the last three months were significant however. Listed below are the actual production changes, per month, for the last three months:
Month         Bakken       North Dakota
Dec 13      -45,528        -40,284
Jan 14         6,542           -2,218
Feb 14       16,643          16,224
The Director's Cut for this has not been published yet. I will update this post when it has been.  There were 119 additional wells in the Bakken and 79 in all North Dakota. That means a lot of North Dakota Wells were shut down.
A Bismark engineering firm has calculated the probable Bakken Peak.
Competition from Texas, winter expected to limit ND oil production
MINOT, N.D. – North Dakota oil production, which is poised to break the 1 million barrels per day benchmark, will peak at 1.2 million to 1.5 million barrels per day over the next five years, limited by winter weather and competition from Texas, a Bismarck engineering firm said this week.
I have charted that prediction below. The figures are the average yearly production.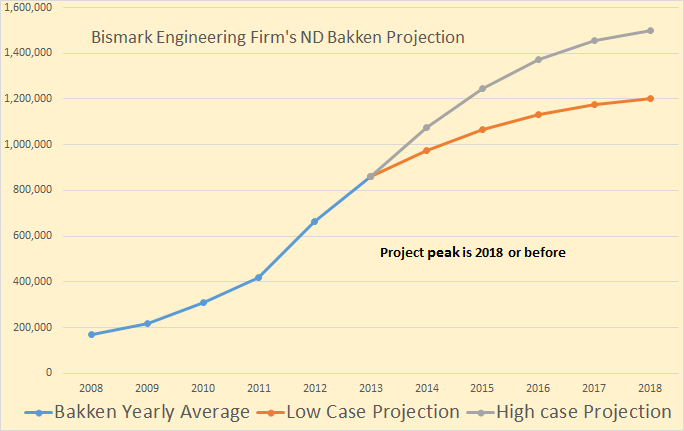 The Director's Cut finally came out:
Comments:
The drilling rig count was pretty much unchanged from Jan to Feb and the number of well completions was up slightly from 60 to 70. Days from spud to initial production decreased 8 days to 114. Investor confidence appears to be growing. There were still over 100 wells shut in for the Tioga gas plant conversion in an attempt to minimize flaring, but the biggest production impact was still the weather. February had 18 days with temperatures 5+ degrees below normal. Add to that 4 days with wind gusts too high for completion work and progress is slow.
Over 95% of drilling still targets the Bakken and Three Forks formations.
At the end of Feb there were about 650 wells waiting on completion services, a decrease of 10.
There have been a lot of headlines lately prompted by the EIA's latest partial release of their Annual Energy Outlook 2014. There have been dozens of articles proclaiming that the EIA has predicted the US will be energy independent by 2037. Here is just one of them:
US to become self-sufficient in oil production in 23 years
A US government report expects that the United States will become self-sufficient in oil production by the year 2037. This means that oil imports are expected to fall to zero as a result of increases in the local production of domestic crude supplies, including in North Dakota's Bakken field and Texas's Eagle Ford formation.
Really now? Well I have read that report and as much as I would like to slam the EIA's predictions, they said no such thing! The EIA presented three possible scenarios for US crude oil production out to 2040. The reference case, the one they deemed most likely had US importing about one third of our oil in 2040. The low oil case had us importing about 40% of our crude Oil in 2040. Only the high oil case had us importing no oil in 2040.
In fact their reference case is really quite pessimistic. Here is their Eagle Ford reference prediction: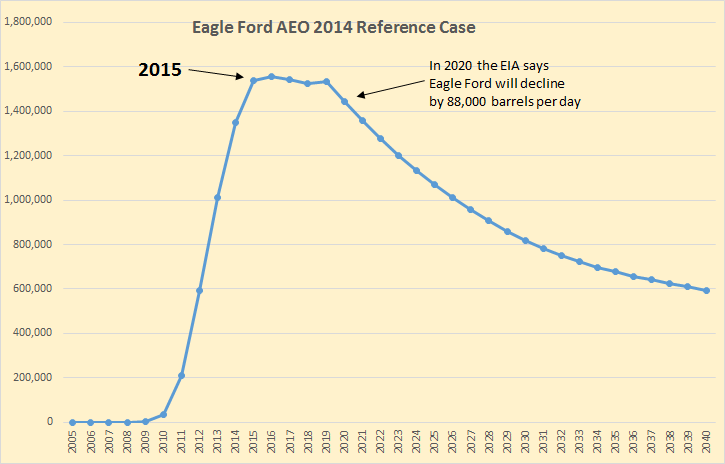 The Estimated Ultimate Recovery from Eagle Ford Wells is already falling:
Year EUR in thousand barrels
2008  36
2009  57
1010 117
2011 153
2012 191
2013 169
Now the EIA did have a High Oil Resource Case where we become energy independent by 2037. Among other things they include:
EURs for tight oil, tight gas, and shale gas wells are 50% higher
They are already falling but if they turn around and go 50% higher then….
Additional tight oil resources as well as 50% lower well spacing (i.e., wells are closer together), with a downward limit of 40 acres per well …….
That's 16 wells per square mile. Now that is some tight spacing for laterals two miles long.
Long-term technology improvements beyond those assumed in the Reference case…
Even the reference case assumes technology improvements, but to get to energy independence we must have even more and better technology improvements.
More resources in Alaska and in the lower 48 offshore, including the development of tight oil in Alaska and 50% higher technically recoverable undiscovered resources for other Alaska crude oil and the lower 48 offshore…
We need to find some of that undiscovered tight oil in Alaska. There must be some up there somewhere, and some more undiscovered in  lower 48.
The development of lower 48 onshore oil shale (kerogen), with production reaching 135,000 barrels per day by 2025.
Yeah, that Green River Kerogen will help out a lot.
But what about the whole US of A, what is the EIA's reference (most likely) projection for that?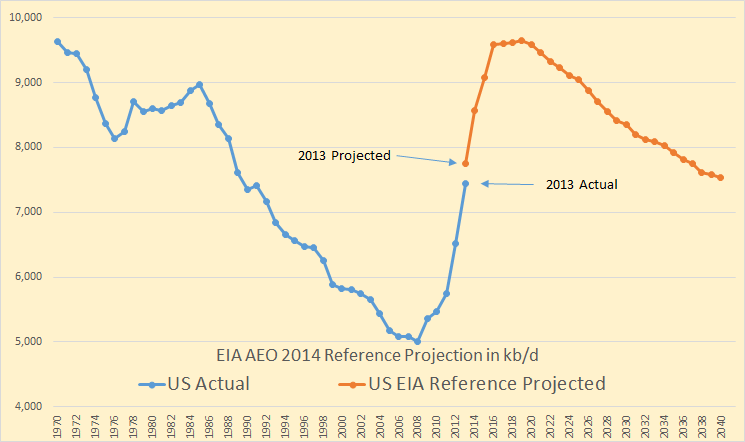 This projection was apparently made last fall well before all the data were  in. As you can see they were a bit optimistic with their reference case. Anyway the reference case has us peaking, or very near it in 2016. Then after a short plateau we head down, big time.
If the EIA's reference case is anywhere close to being correct then World Peak Oil is definitely in this decade. Without the USA's input, crude oil has already peaked. US shale oil is the only thing keeping us off the peak. And now even the EIA is, in their reference case, predicting the peak in US production.