North Dakota has published the latest production numbers.
ND Monthly Oil Production Statistics (All North Dakota)
ND Monthly Bakken* Oil Production Statistics (Bakken Only)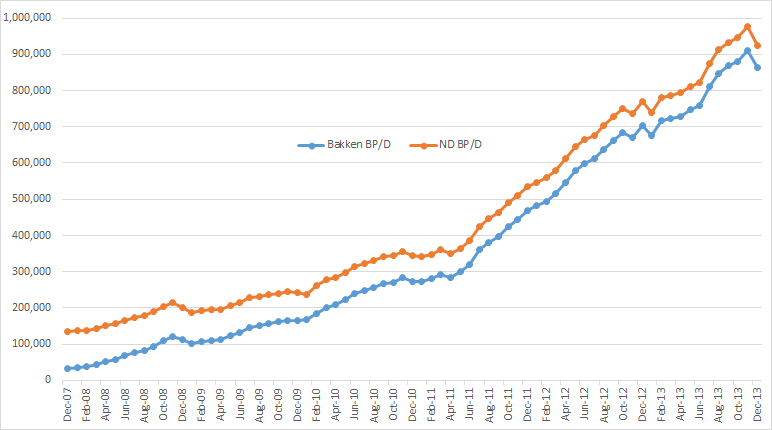 Bakken production fell 48,395 bp/d to 862,389 bp/d and all North Dakota production fell 53,226 bp/d to 923,227 bp/d. That was after Bakken November production had been revised up by 2,908 bp/d and North Dakota November production was revised up by 3,173 bp/d.
From the Director's Cut
<i>The drilling rig count was up from Nov to Dec, but the number of well completions dropped from 138 to 119. Days from spud to initial production increased 18 days to 132. Investor confidence appears to be growing, but there is still some concerns about the uncertainty surrounding federal policies on taxation and hydraulic fracturing regulation, but the big story is the December weather. Low temperatures of 21 to 31 degrees below zero, 4 major snow events, and 5 major wind events. Dickinson had the 4th coldest December on record and from Williston to Bismarck it was the 9th snowiest December since 1890.</i>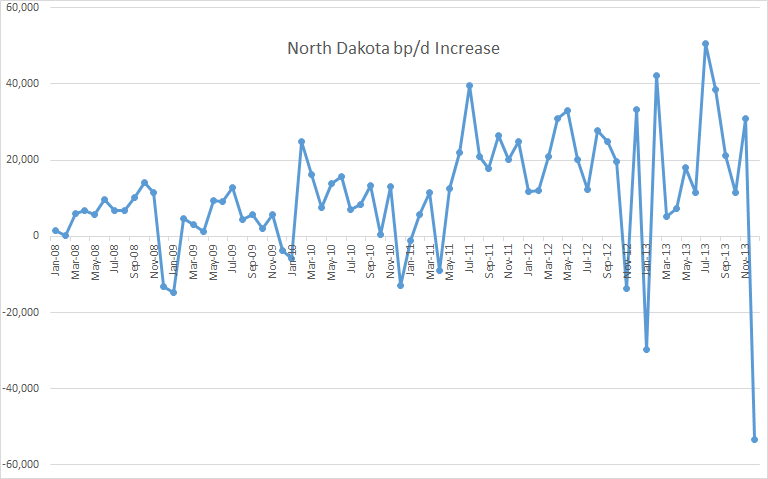 The December decline in North Dakota production was the highest in the history of the state. Total North Dakota increased production in 2012 by 233,349 barrels per day. However the increase in 2013 was only 154,317 bp/d. Their production increase was 34 percent less in 2013 than it was in 2012.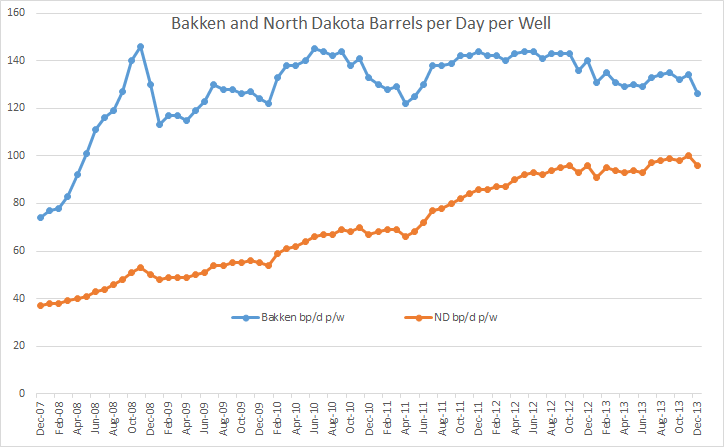 Bakken barrels per day per well dropped by 8 from 134 to 126. That is the lowest number since May of 2011, when the surge in the rig count was just beginning.
The EIA's Drilling Productivity Report came out a few days ago. Their Bakken figures look totally different from North Dakotas. The EIA had the Bakken up 247,717 barrels per day in 2012 and up 203,613 bp/d in 2013. There is a bit of apples vs. oranges here however. The ND figures are for all North Dakota while the EIA's figures are for all the Bakken including Montana's small share. But still the figures should be pretty close as the EIA has ND Bakken plus Montana Bakken while ND has ND Bakken plus ND non-Bakken.
They are miles apart however as the EIA had all Bakken production in December at 1,001,062 bp/d while ND had all North Dakota production at 862,389 bp/d.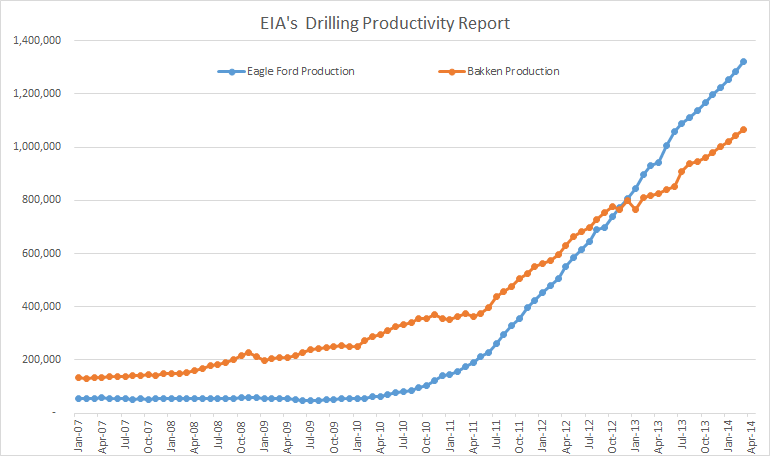 The Data here is through March 2012. I believe the last six months here are just estimates. There is very little variation in the numbers. They have Eagle Ford increasing production by about 30,000 bp/d each month and the Bakken increasing by about 20,000 bp/d each month, but increasing their gain a little each month. They have the Bakken starting out increasing production by 17,500 bp/d in October 13 and rising to  22,650 bp/d in March. They have Eagle Ford having an increase of about 29,000 in October rising to just over 34,000 in March. They are just Guessing. They have the Bakken up over 20,000 bp/d in December while North Dakota had them down by about 50,000 kb/d.
But I think they have the decline rate pretty close. I calculated their decline rate for each month for both the Bakken and Eagle Ford, plotted below.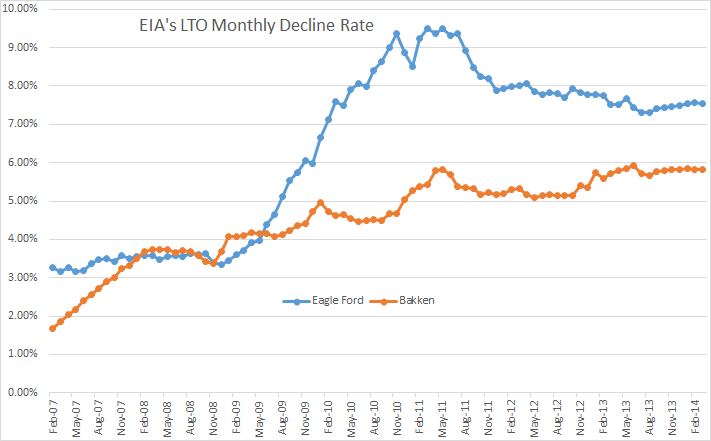 I posted this link in the comments of the last post but I want to make sure no one misses it.
'Big oil' getting smaller as production keeps falling
* Top seven western majors all seeing liquids output fall
* Supermajors' share of global market dropping every year
* BP reports fastest decline of 30% from 2009-13
* Production becoming more evenly split between oil and gas
Combined output of crude and other liquids by the seven biggest western majors — ExxonMobil, Shell, BP, Chevron, Total, ConocoPhillips and Eni — amounted to 9.517 million b/d last year, down 2.2% from 2012 and marking the fourth consecutive year of decline.
And This Steven Kopits video presentation is just over one hour long but worth every second of it:
Global Oil Market Forecasting: Main Approaches & Key Drivers