North Dakota production by county is posted here: ND Historical Barrels of Oil Produced by County Confidential wells are not included in that data however but that estimated data can be found here:Monthly Production Report Index Click on the latest month.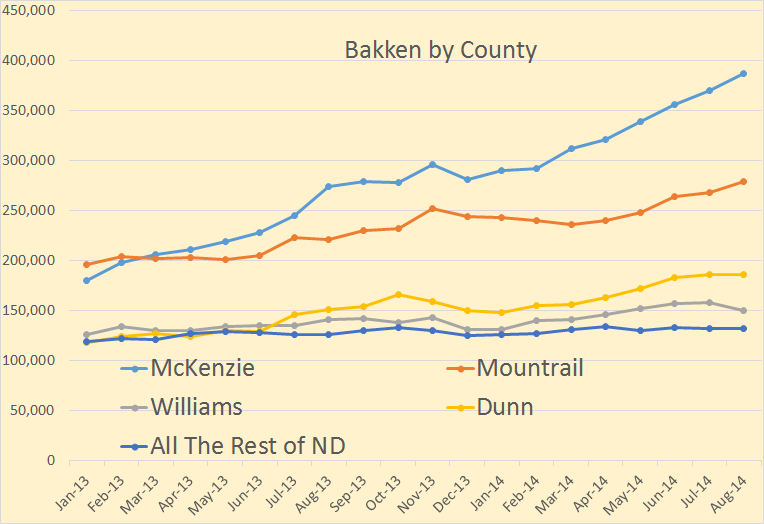 This is a zero based chart and gives a better overall picture of production from each county. The charts below are not zero based but gives an amplified picture of production from each county.
Production in barrels per day for each county was as follows:
McKenzie      386,715 
Mountrail      278,940
Dunn              185,707 
Williams        149,437
Rest  of ND   131,531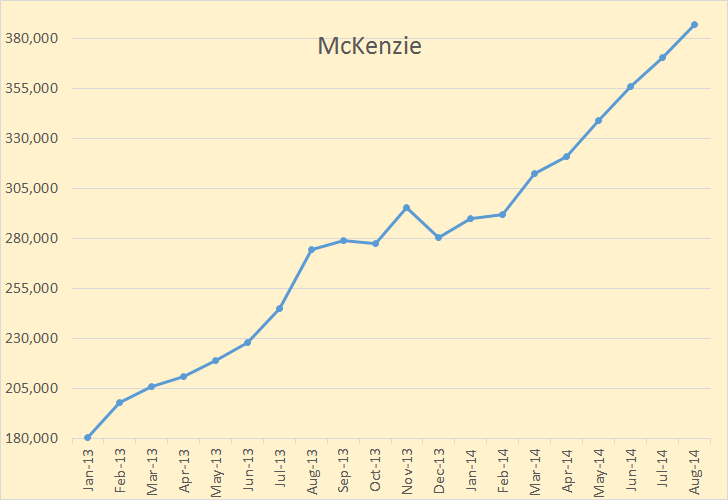 McKenzie county production was up by 16,435 barrels per day. McKenzie remains the most productive county in North Dakota.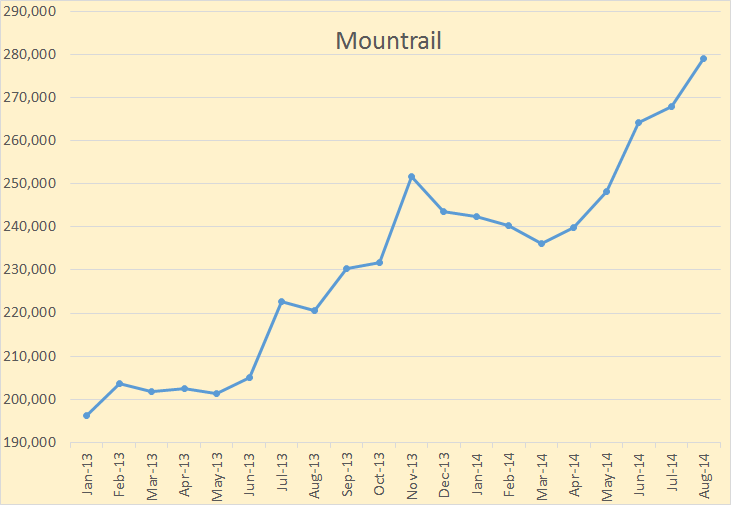 Mountrail county was up by 11,077 bpd. A surprisingly good month for that county.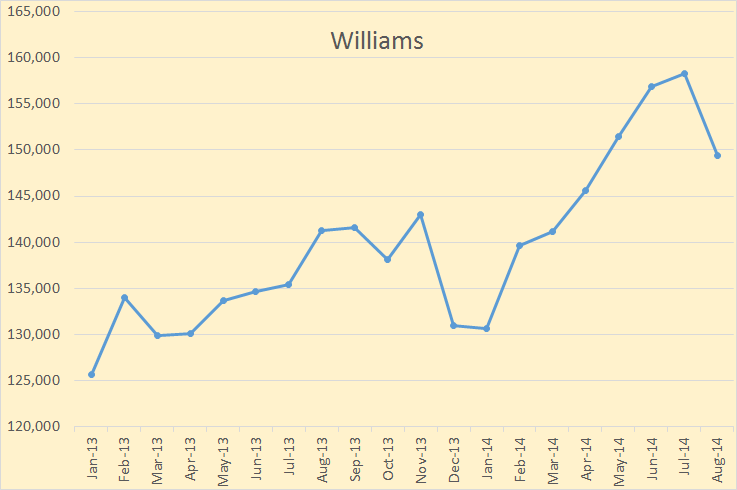 Williams County production was down 8,827 bpd. Quite a large drop. I have no idea what is happening there.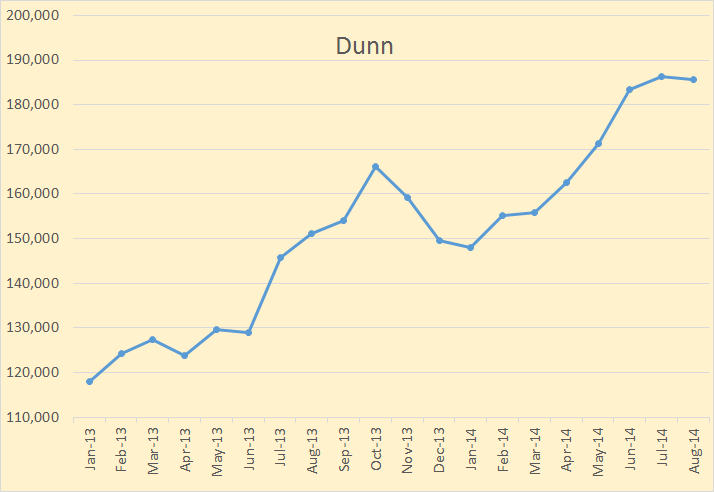 Dunn County was down 550 bpd.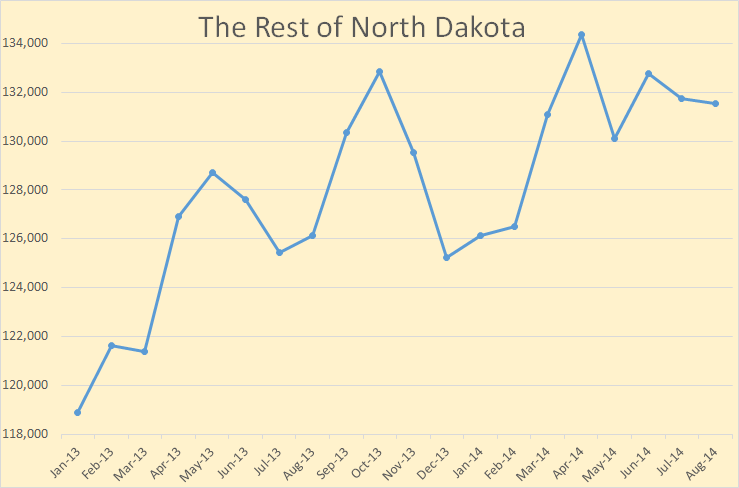 All the rest of North Dakota was down 225 barrels per day.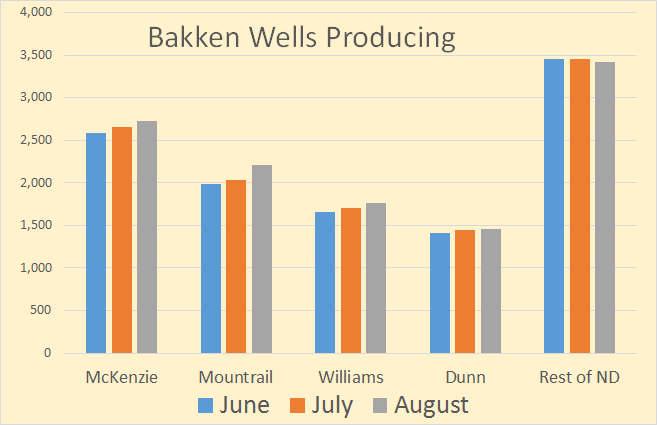 Bakken wells producing in August was:
McKenzie       2,731
Mountrail       2,204
Williams          1,757
Dunn                1,454
Rest of ND      3,417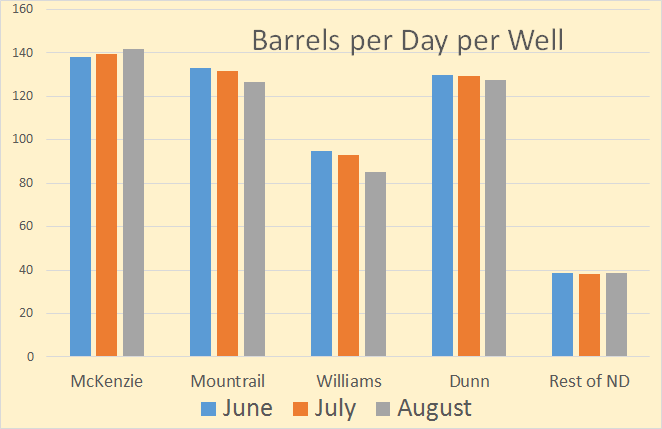 Bakken barrels per day per well in August was as follows:
McKenzie      142
Mountrail      127
Williams          85
Dunn              128
Res of ND       38
The North Dakota rig count is given every Monday by Bakken Shale but the same data can be gleaned from here, Current ND Active Drilling Rig List three days earlier, Friday evening around 7:00 PM. The number of rigs is not listed but t list can be copied and pasted into Excel, then just read the last line number.
 The North Dakota rig count hit about a two year high September 19th at 197, held that level for three weeks but has dropped by 7 in the last two week. The rig count will be the thing to watch over the next few months to see if the low oil price is having any effect on drilling. There will be a several month time lag in oil production but there is no time lag in rig count, we know the very week it happens.
The US drilling rig count declined 12 units to settle at 1,918 rigs working during the week ended Oct. 17, Baker Hughes Inc. reported. That number will bear watching also.

Enno Peters posted this chart two Thursday. Notice the decline rate of all wells drilled prior to this year.
Note: I send an email notice when I publish a new post. If you would like to receive that notice, or talk to me about anything else, then email me at DarwinianOne at Gmail.com