The new Bakken and North Dakota production data is out with the August production numbers. The last data point for all charts is August 2014.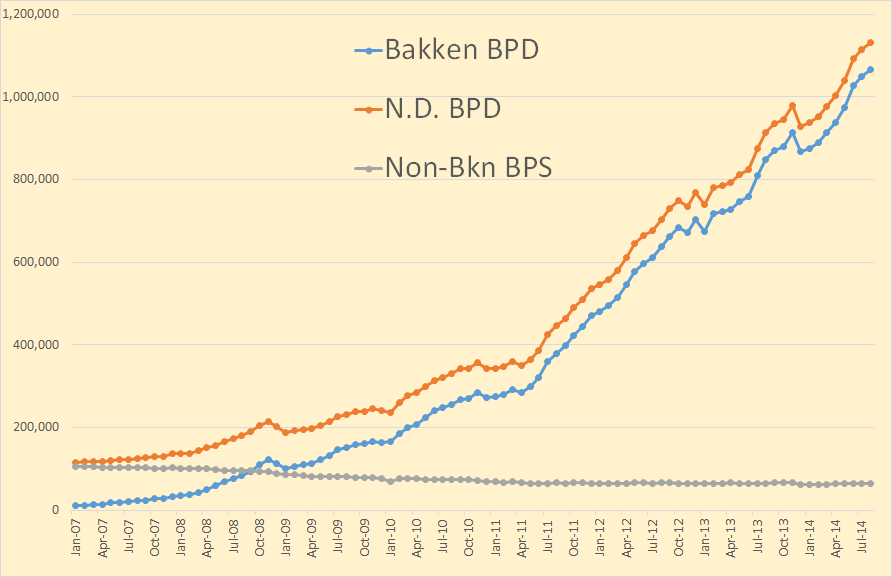 Bakken oil production was up 16,864 bpd in August to  1,067,745 bpd. This is about 6,100 barrels per day less than the growth in July which was 22,965 bpd. However all North Dakota was up 17,910 bpd in August compared to 21,661 growth in July. This was a growth of 1,046 bpd for North Dakota production outside the Bakken. In July production outside the Bakken was down 1,304 bpd.
The big surprise this month was in wells completed and wells producing. Bakken wells producing increased by 211 and all north Dakota wells producing increased by 274. That meant wells producing outside the Bakken increased by 63. That is a real shocker since Helms says 95% of all activity is in the Bakken. From the Director's Cut, bold mine:
The drilling rig count was up two from August to September, but has since fallen 5 from September to today. The number of well completionsi increased from 197 in July to 270 in August with summer weather. However there was one major rain event in Dickinson and Minot as well as 3 days with wind speeds in excess of 35 mph (too high for completion work).
Over 95% of drilling still targets the Bakken and Three Forks formations.
The drillers did not outpace the completion crews. At the end of August there were about 600 wells waiting on completion services, a decrease of 30.
Crude oil take away capacity is expected to remain adequate as long as rail deliveries to coastal refineries keep growing.
Rig count in the Williston Basin is no longer increasing. Utilization rate for rigs capable of 20,000+ feet remains above 90%, and for shallow well rigs (7,000 feet or less) about 60%.
Drilling permit activity plateaued as operators worked on their summer programs and planned locations for next winter.
The number of well completions in August, as well as the number of producing wells in all North Dakota increased 73 more than they did last month yet production, in all North Dakota increased by 3,751 barrels per day less than in July. I find that strange.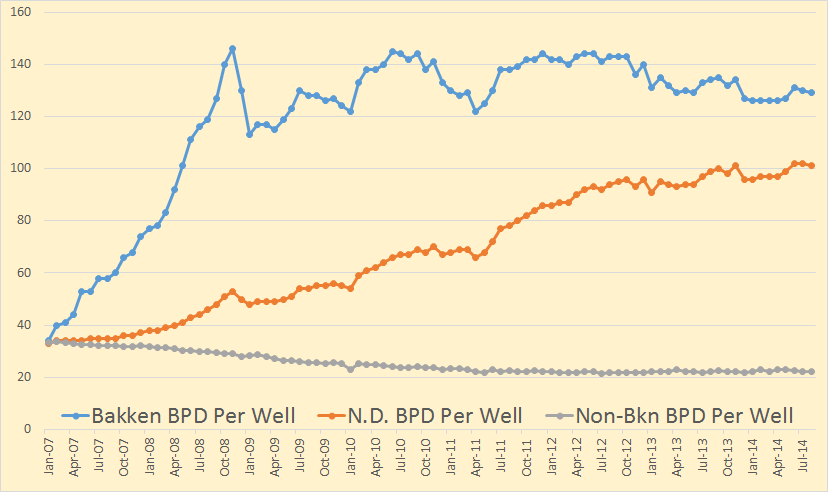 Bakken bpd per well decreased by 1 to 129 and all North Dakota bpd per well also dropped by 1 to 101. That meant wells outside the Bakken stayed flat at 22 bpd per well.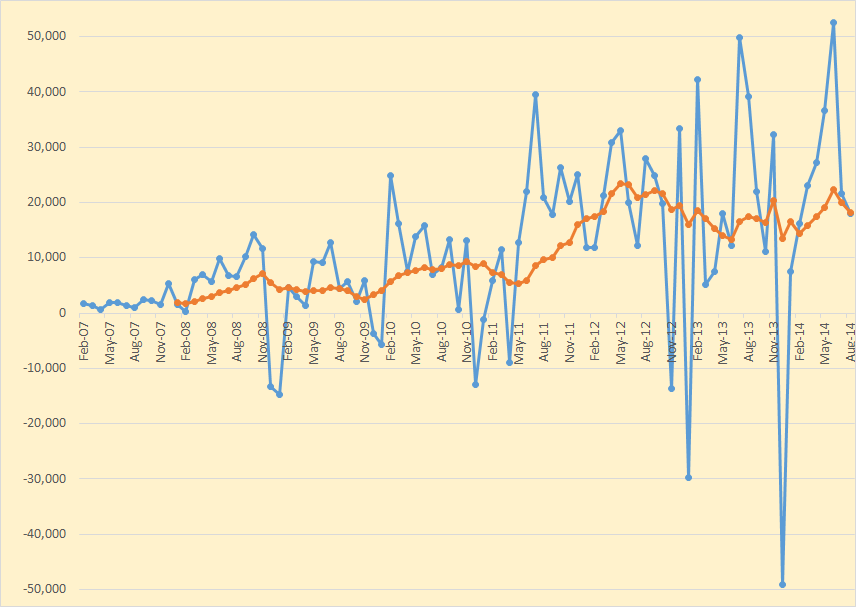 This is the chart to watch. The total increase in all North Dakota will tell us the story. If average barrel per day increase keeps dropping then by the end of the year we should have a pretty good idea of what the future holds for the Bakken.
A Seeking Alpha article you have just got to read:
Daze Of Peak Oil… Or At Least Peak Oil Production
Production of crude oil has nearly stalled despite a near quadrupling in the price since '01 and it seems likely the world has entered the Peak Oil phase and neither the governments nor central banks (try as they may) can paper this over. Without the growing supply of adequate cheap energy, there isn't adequate GDP growth, and without the GDP growth, there is no way to outgrow, pay off, or service the huge debts incurred but by interest rate suppression. The dual occurrence of peak oil with ZIRP (zero interest rate policy) is a truly unfortunate state of affairs. But whether or not they happened in tandem, both were inevitable. Still, governments and central banks are attempting to maintain the pre-peak oil system and avoid the pain of free market corrections to supply, production, and price. It is in this light that the centralization and "intervention" of stock, bond, and real estate markets and the manipulation of commodities growing in scale and frequency since '09 should not be shocking. Free markets are the enemy of fraud, the punisher of bad fiscal and economic behavior and thus free markets will not be allowed to facilitate true price discovery (i.e., REALITY).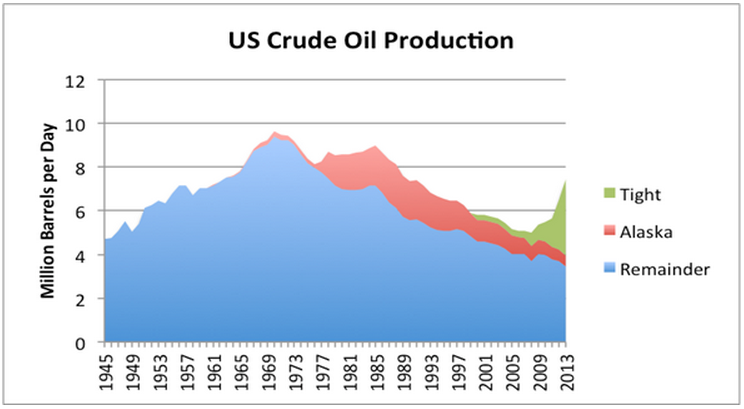 There is a lot more to this article and a lot of very good charts. I hope we can have a good discussion about this article as well as on the Bakken.
Note: I send an email notice when I publish a new post. If you would like to receive that notice then email me at DarwinianOne at Gmail.com