The EIA published, last month, AEO2015 Preliminary Oil & Natural Gas
Production & Price Results. And just below the title they wrote:
                                    DRAFT – DO NOT CITE
But I am not citing anything, just informing you of what they said. 😉 What they mean however is that they reserve the right to change their mind before the report comes out early net year. And I can certainly understand that. All Oil data is in million barrels per day.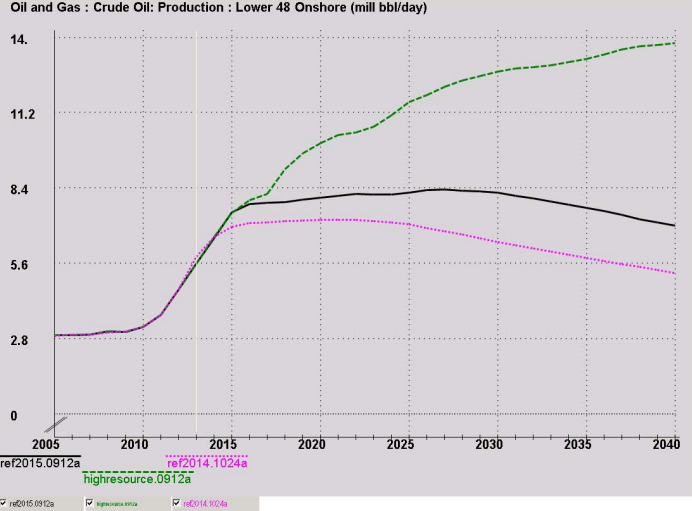 They have lower 48 production hitting a slowly increasing plateau in 2016 and peaking at just under 8.4 million barrels per day in 2027.
They have US Tight Oil production following pretty much the same profile, hitting a plateau in 2016 at about 5.5 million barrels per day and holding flat until starting a very slow decline in 2030.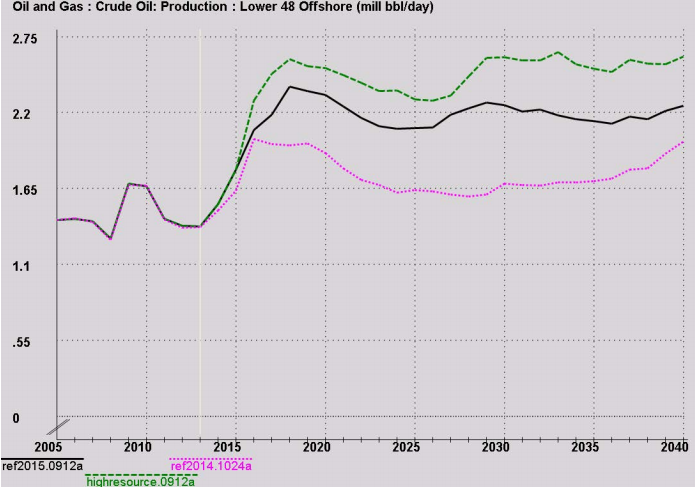 They have US Offshore moving above 2 million barrels per day in 2016 and peaking in 2018 at about 2.35 million barrels per day. US Offshore currently stands at 1.5 mbd so I think they are quite optimistic.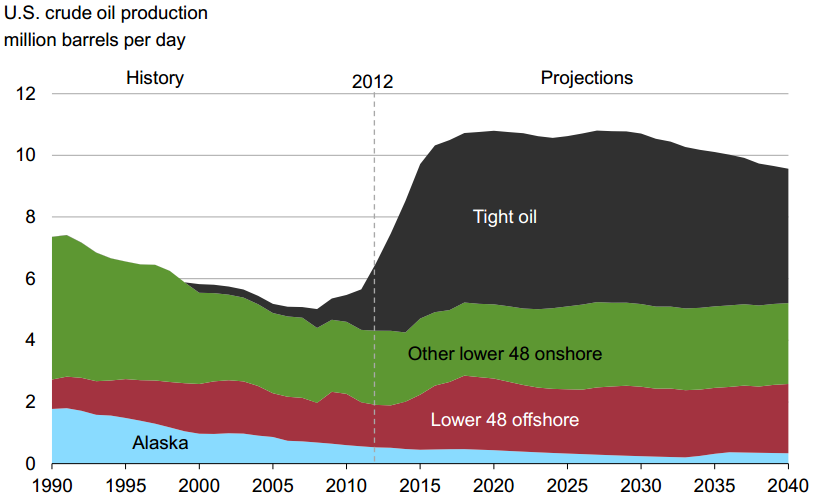 And here is their projection to 2040. Only tight oil and Alaska shows any significant decline after peaking in 2018 due to offshore peak in that year.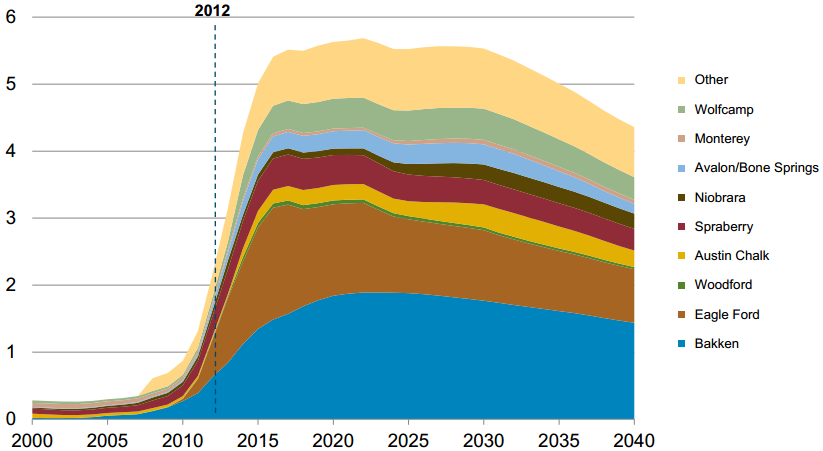 This is a stacked chart of all light tight oil production. The Bakken is the big dog here, outproducing Eagle Ford from 2018 all the rest of the way.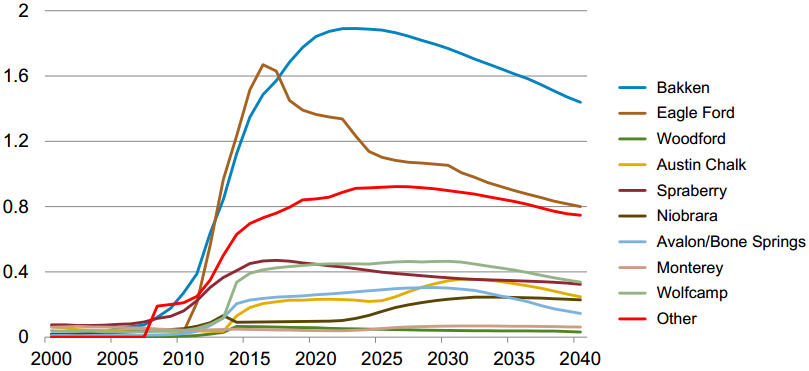 This is the most interesting chart of all. Look at Eagle Ford, peaking in 2016, down slightly in 2017 then down sharply in 2018, then dropping to half its peak in 2040. All the other shale plays hold their plateau and only drop slightly beginning around 2030.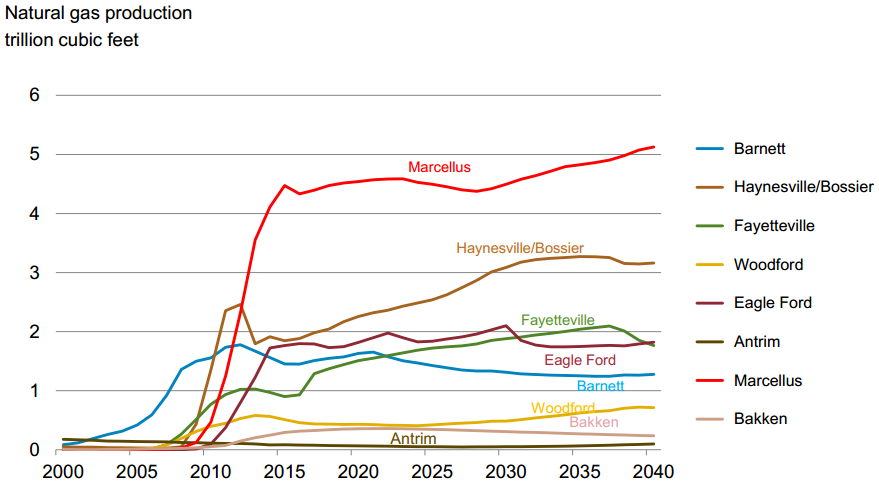 Shale gas by source. Notice that no one except Barnett is post peak. Contrast this with what the Post Carbon Institute says: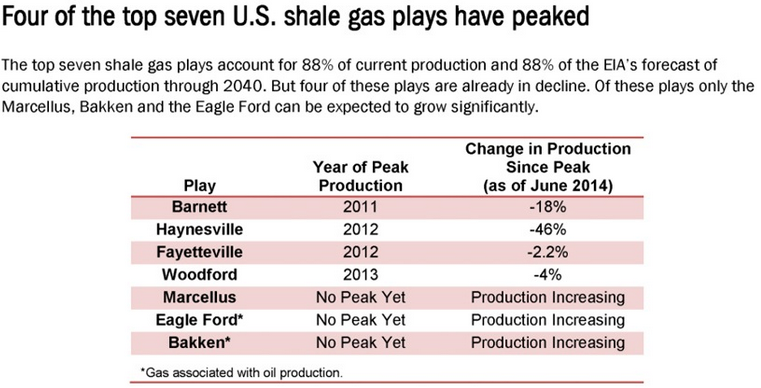 Source, Post Carbon Institute.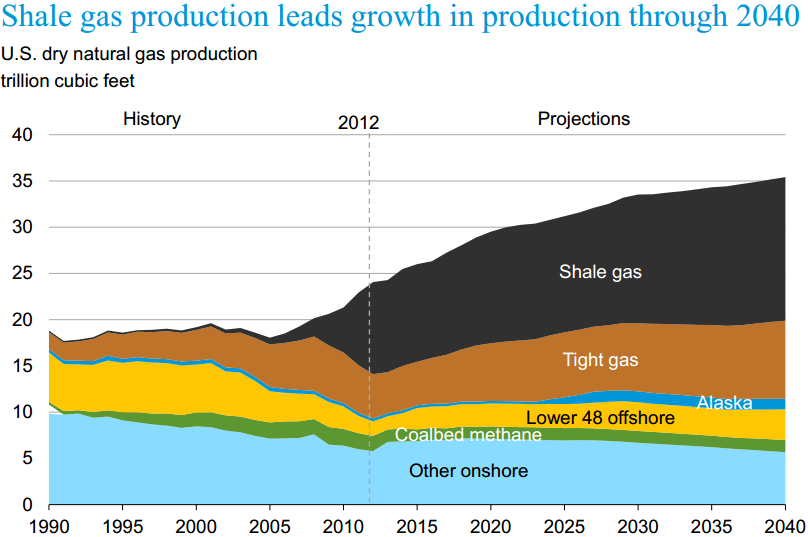 The EIA has US gas production onward and upward right through 2040 when we will be producing about 10 million cubic feet more than we are today.
And I just had to add this:
De Smog Blog: U.S. Energy Policies Based on Inflated Fracking Predictions
Lon Burnam, a Texas State Representative from Denton Texas, who lost his latest bid for reelection after serving 18 years, gives his opinion of the Texas Railroad Commission.
At 6:10 into the second video interview at this link:
Reporter: When people in the government, like members of the Railroad Commission, start insinuating that money is coming from Russia to support activist in Denton, what's your response to that?
Burman: Hogwash! And besides, who are they to talk? I mean they are all corporate whores to the industry, every one of those railroad commissioners.
 Note: I send an email notice when I publish a new post. If you would like to receive that notice then email me at DarwinianOne at Gmail.com
Note #2: In the comments section, previously after 25 original comments, it went to a second page. I changed that number to 100. That is original comments, replies to comments don't count. Now it will hardly ever go to a second page. Please let me know if you prefer this or would rather have it page after 25 original comments.